National Biomedical/Clinical Engineering Appreciation Week
Biomedical and Clinical Engineering departments across Canada are celebrating the National Biomedical/Clinical Engineering Appreciation Week on May 20-26, 2018. As part of the celebrations, ACCES is once again launching a photo contest to all its registered members in Atlantic Canada.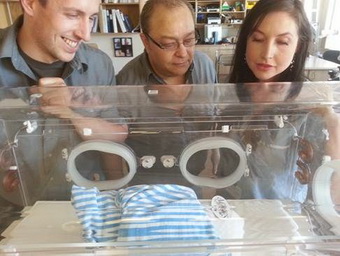 ACCES Bursary Recipient 2018

ACCES is proud to announce its very first bursary recipient in January 2018: Nicolas Chassé, son of ACCES member Mario Chassé. Nicolas will be using the $500 bursary to attend a course in electronics engineering technology, intending to follow in his father's footsteps and to one day become a clinical engineering technologist (pictured above: Nicolas Chassé with ACCES member and proud father Mario Chassé). Congratulations, Nicolas, and best of luck!

Spotlight Article Fall 2017

This Fall's spotlight article moves away from New Brunswick and into Nova Scotia where we meet Brian Seidel, one of the newer Biomedical Electronics Technologists (Biomed) to the province's healthcare scene… but not new to healthcare. You see, Brian started as a Biomedical Technologist back in 2008 in the military.

22nd Annual ACCES Educational Seminars & Trade Expo

This year marked the 22nd anniversary of an annual event that brings together clinical engineering professionals and key healthcare technology players in Atlantic Canada: the Atlantic Canada Clinical Engineering Educational Seminars and Trade Expo. Over 120 delegates, vendors, and speakers were present for this event in Moncton, New Brunswick, from May 17-19, 2017.

Clinical Engineering in NB Recognized for Innovation

Service New Brunswick's Clinical Engineering branch was recently recognized as a finalist for ECRI Institute's 11th annual Health Devices Achievement Award. Clinical Engineering utilized a concept called critical percentage to better improve completion rates of inspection and preventative maintenance (IPM) on medical devices throughout the province.