ACCES23/CMBEC41 Conference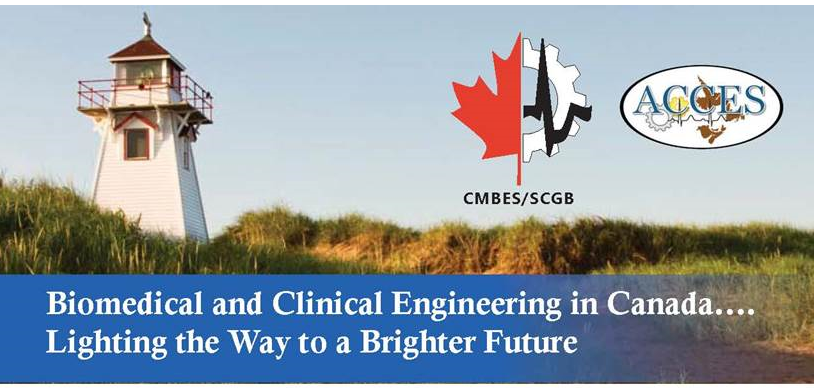 ACCES23/CMBEC41 Joint Conference
May 8-11, 2018
Delta Prince Edward Island, Charlottetown, PEI
Dear Friends and Colleagues,
The Atlantic Canada Clinical Engineering Society (ACCES) and the Canadian Medical and Biological Engineering Society (CMBES) are pleased to invite you to the ACCES23/CMBEC41 Joint Conference taking place May 8-11th in Charlottetown, Prince Edward Island.
Don't pass up this unique opportunity to experience an educational and exhibitor event our two societies are able to offer. Our conference will have something to offer everyone. While attending the event, you can benefit from listening to some of the most progressive thinkers in our medical profession. Whether you are a Healthcare Administrator, Manager, Engineer, Technologist/Technician or Nurse/Clinician, there are several key benefits for you or your staff to attend. Some of these benefits are illustrated below:
Enhance your knowledge through Academic, Leadership and Technical/Clinical Education Streams.
Network and learn from colleagues from across Canada.
50 booths to visit in the Exhibit Hall representing a variety of interests including biomedical equipment vendors, test equipment vendors, alternative service providers, educational institutions, and government agencies.
Share knowledge and best practices with your colleagues.
Keep abreast of the latest technological advances and practices in our professions.
Planning underway for dedicated Seminars for those preparing for CBET Certification
Vendor service education training by Masimo and Philips (Intellivue First responder Training)
Charlottetown PEI is a beautiful locale and a great area of Canada to visit. Come experience the hospitality of the Maritimes and enjoy the music and culture that makes this area renowned - you won't be disappointed. Our 2018 ACCES23/CMBEC41 Joint Conference Organizing team is dedicated to organizing a truly memorable event. Your active contribution and participation is welcomed and we look forward to seeing you in Charlottetown, PEI in May!
Please Visit our ACCES and CMBES websites for more information and updates at:
http://accesociety.org/ http://www.cmbes.ca/
Sincerely,
Gary Slaunwhite, CBET(c), 2018 ACCES23/CMBEC41 Joint Conference Marketing Director
Note: For direct inquiries please contact Gary Slaunwhite or Sarah Meades at:
This e-mail address is being protected from spambots. You need JavaScript enabled to view it ACCES23/CMBEC41 Conference Marketing Director
This e-mail address is being protected from spambots. You need JavaScript enabled to view it ACCES23/CMBEC41 Conference Administrative Support