Save The Date!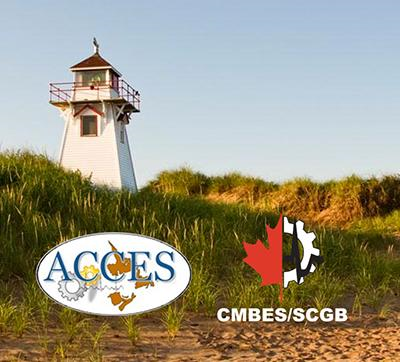 ACCES23/CMBES41 Joint Conference
May 8-11, 2018
LOCATION: Delta Prince Edward Island
Charlottetown, PEI
Book your accommodations now at the Delta to receive your discounted rate of 169.00 CAD - 189.00 CAD per night with the following link:
Book your group rate for ACCES / CMBES Joint Conference
Contact Sarah for more info at This e-mail address is being protected from spambots. You need JavaScript enabled to view it or 1-902-678-5994
Message from the President

Dear ACCES members,

It is that time of year again, in which we are in the midst of the initial planning stages for the next ACCES Educational Seminars & Trade Expo. As you should already know, this year's conference will be hosted in Charlottetown PEI. Its organization will be no small task, as this will be a combination of the ACCES and CMBES conferences: ACCES23/CMBEC41. Already, we have a strong base in forming the multiple committees needed for putting this event together, with representation from across the country.

Clinical Engineering in NB Recognized for Innovation

Service New Brunswick's Clinical Engineering branch was recently recognized as a finalist for ECRI Institute's 11th annual Health Devices Achievement Award. Clinical Engineering utilized a concept called critical percentage to better improve completion rates of inspection and preventative maintenance (IPM) on medical devices throughout the province.

New Education Committee

The ACCES board of directors recently held their Annual General Meeting, which took place on Thursday, May 18th 2017, in Moncton, New Brunswick. The floor was opened for nominations to the vacant Director of Education position, but none were received. However, after a few members showed interest in lending a hand, an Education Committee was formed.

The Education Committee has since met, and together they have laid the groundwork for a series of educational offerings through online webinars based on speaker sessions from ACCES22. Expect emails to be sent to the ACCES distribution list as soon as webinars are scheduled and available. Coming soon!


 

 

2017 Award Recipient

On the evening of May 18th, during the banquet dinner for the 2017 ACCES Annual Educational Seminar and Trade Expo, a clinical engineering professional from Atlantic Canada, Mark Ryan, was recognised as the ACCES 2017 Clinical Engineering Professional of the Year for having distinguished himself through his hard work, exceptional service, technical skills, and dedication to the clinical engineering profession.