On the evening of May 19th, during the awards ceremony for the 2016 ACCES Annual Educational Seminar and Trade Expo, two clinical engineering professionals were recognized for their hard work, commitment, and dedication to the clinical engineering profession: Robert Haché and Claude St-Laurent.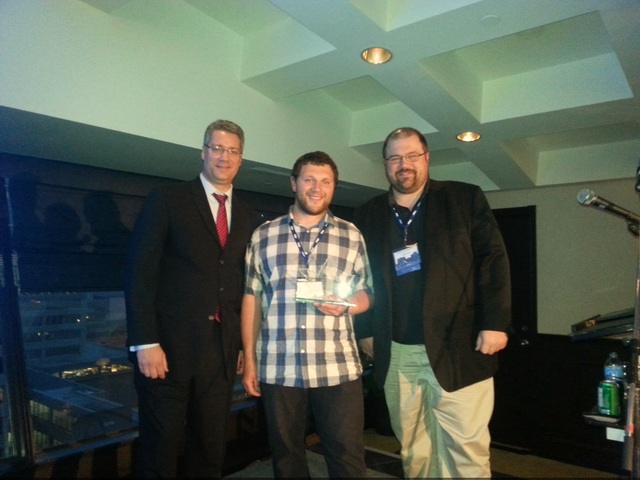 Michael Barton, ACCES 21 Chair; Claude St-Laurent, recipient of the 2016 Professional of the Year award; John Inch, ACCES President
Claude St-Laurent is the recipient for the 2016 ACCES Clinical Engineering Professional of the Year award. A clinical engineering technologist working for Service New Brunswick, Claude has distinguished himself over the past year by his exceptional service, leadership, and technical skills. Having previously been assisting the lead technologist in Telehealth in New Brunswick, Claude was thrust into this lead role almost overnight as staffing changes forced him to step up to the plate and prove to his employer and to Health Network staff that he was up to the challenge. He helped calm an otherwise chaotic situation, and now manages 191 endpoints while still keeping up with his other duties as a clinical engineering technologist. This has led his peers to recognize his hard work and nominate him for the 2016 ACCES Clinical Engineering Professional of the Year Award.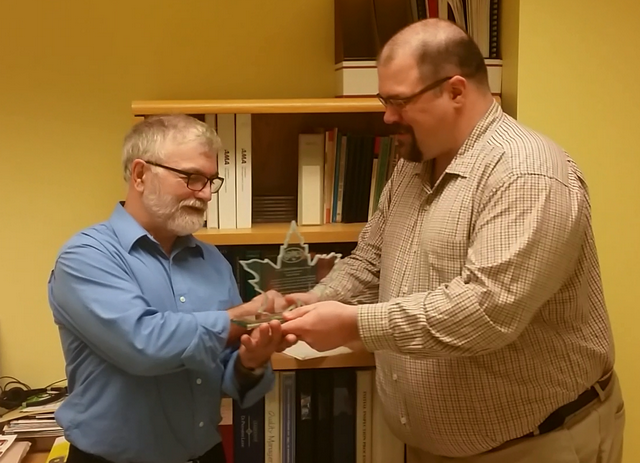 Robert Haché, recipient of the ACCES Lifetime Achievement award; John Inch, ACCES President
Robert Haché is the recipient of the prestigious ACCES Clinical Engineering Professional Lifetime Achievement Award. A recently retired clinical engineering technologist who worked for 28 years at the Georges-L.-Dumont Hospital in New-Brunswick, Robert specialized in hemodialysis for most of his career. Passionate about learning, he successfully obtained numerous post-secondary certificates, diplomas, and degrees in medical and administrative fields during his full-time employment at the Hospital. Applying the same dedication and passion to his career, Robert has been a key player in the advancement of dialysis technologies and treatments: he has worked with companies around the world to develop, research, and test prototypes; he has contributed to research in hemodiafiltration (HDF) devices and treatments; and he has assisted in the expansion of the dialysis program in Southeastern New Brunswick to include multiple dialysis departments, water treatment improvements for the ICU and Central Services Sterilization, and new in-hospital programs like the Self Care program and the Nocturnal program.
Robert's passion for dialysis has not gone without notice; in 2008 he received the Award for Technical Excellence from the Canadian Association of Nephrology Nurses and Technologists (CANNT). Robert will also be receiving a newly created award by the Georges-L.-Dumont Hospital nephrology program for his continuous improvement in dialysis, an award that will be further granted to individuals in the field who have gone above and beyond. Rightly so, this award will be called the Robert Haché Prize.
With his outstanding commitment, dedication, and significant contributions to the advancement of the clinical engineering profession throughout his career, the ACCESS Board of Directors has deemed Robert Haché deserving of the prestigious ACCES Clinical Engineering Lifetime Achievement Award.