Joel McEvoy - 2020 ACCES Clinical Engineer of the Year
Our selection for the ACCES 2020 Clinical Engineering Professional of the Year is Joel McEvoy. He is currently the Interim Manager of Clinical Engineering at the IWK Health Centre in Halifax, NS.
Joel started his professional journey in 1996 when he completed his Electronics Engineering Technology Diploma (top of his class) at Fanshawe College. He followed this with his Biomedical Technology Diploma, graduating in 1997.
His Biomedical career started at Sick Kids Hospital in 1998. He soon realized he had a passion for Pediatric Ventilation and Critical Care and dove into all he could learn about Ventilation, Anesthesia and other Biomedical devices in a short period of time.
With a desire to expand his knowledge he went back to the books and received his Bachelor of Applied Science in Technology Management from Bemidji State University in 2009.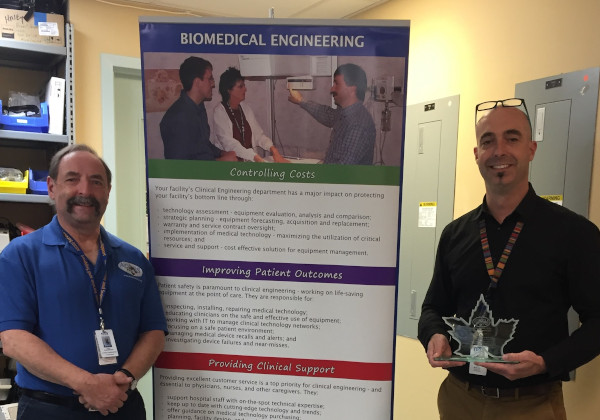 Joel then took on an additional responsibility when the Sick Kids Biomed Department added Holland Bloorview Kids Rehabilitation Hospital to their realm. He signed up for the Biomedical External Consultant Role and developed a Medical Device Management program for that site.
In 2010 Joel and his wife Julie moved to the East Coast where Joel accepted a position with HANS and picked up where he left off at Sick Kids. In 2012 he played a vital role in HANS moving to the new hospital in Truro, NS.
Looking to expand his professional career he joined the IWK in 2016 where he joined the Critical Care team and specialized equipment in Departments such as Respiratory Therapy, PICU, EHS, and Emergency Services. He was widely embraced by the staff which soon realized the talents he possessed. He was eager to dig in with anything that came his way, sharing information with others, and offering to assist others where needed.
After a few years, Joel accepted the TAO (Technology Assessment Officer) position. His responsibilities increased dramatically but as always he was eager to learn and succeed as he became involved in such things as Procurement of new Medical Devices, Project Management Committees, and assisting the department Manager when needed. His door has always been open to handle any issues that require urgent attention and Joel is always willing to mentor others.
In June 2020, Joel accepted a greater challenge when he accepted the position of "Interim Manager of Clinical Engineering" at the IWK. He carries out the duties and responsibilities of this position with the same passion and excitement he has always exhibited with previous positions.
In summary Joel is a "Professional" in the truest sense where he has an undying passion to succeed in his profession while serving as a mentor to others, and continually promoting the Clinical Engineering profession while in his position or as an Executive Team member of ACCES.
Thank you Joel and we are honored to have you as the  2020 ACCES Clinical Engineering Professional of the Year. Please join us in congratulating Joel in receiving this award.