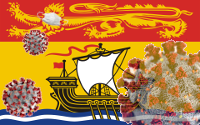 Clinical Engineering in New Brunswick had many Covid-19 related task, but the pandemic didn't stop healthcare from moving forward in the Province.
Clinical Engineering assisted in the opening of a new OR expansion at Moncton's George Dumont University Hospital Center and the deployment of new patient bedside monitors in late 2020. While at the same time providing pandemic support and ensuring PMs on life-critical medical equipment were performed. Noting that the team at the George Dumont was made up of many new members in Gen/Med, so quite an impressive achievement!
Like all Healthcare across the country, NB's Clinical Engineering helped redeploy equipment province-wide to set-up Covid-19 treatment units/beds in every corner of the province. Furthermore, they supported the Regional Health Authorities with an influx of newly purchase ventilators which increased their ventilator fleet by over 50%.
And what do you do when your field service representative can't visit your facility, Clinical Engineering had to find creative ways to maintain medical equipment through virtual support. Utilizing MS teams, cross-provincial support where there were trained techs, performing PMs on devices under full or shared service contracts, etc. All to ensure New-Brunswickers can continue to receive the care they need and deserve, despite the pandemic.
Last but not least, a new project has been rolled-out to standardize service requests to CE province-wide, through a web request portal, allowing for all information on infection control to be made available to techs at the time of request. Allowing them to do their risk assessment and wear appropriate PPE before getting their hands on a device, thus contributing positively to the province's response to Covid-19.
Continually working closely with hospital/regional infection control committees to adapt Clinical Engineering's processes to align and roll-out infection control guidelines and general precautions specific to COVID-19.