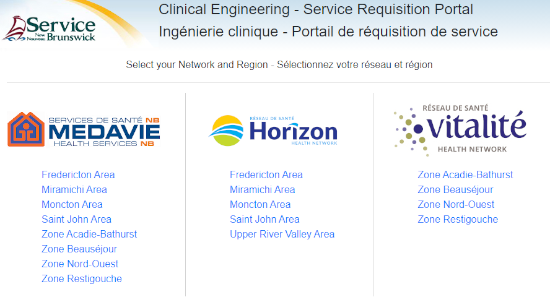 When the government of New Brunswick declared a state of emergency on March 19th, 2020 because of the COVID-19 pandemic, Service New Brunswick (SNB) Clinical Engineering (CE) reviewed their infection control policy with the help of both Regional Health Authority's (RHA) infection Control teams. As a result of this review, Clinical Engineering identified an important gap: the history of the contaminants the medical device has recently been in contact with during it's use was unknown.
This was an issue according to ECRI:
"there is a risk of infection when servicing equipment where the interior of the device is exposed to SARS-CoV from room air – most likely air drawn into the device by a cooling fan and when servicing equipment that has been in contact with a patient's oral secretions or other excretions and cannot be readily disinfected."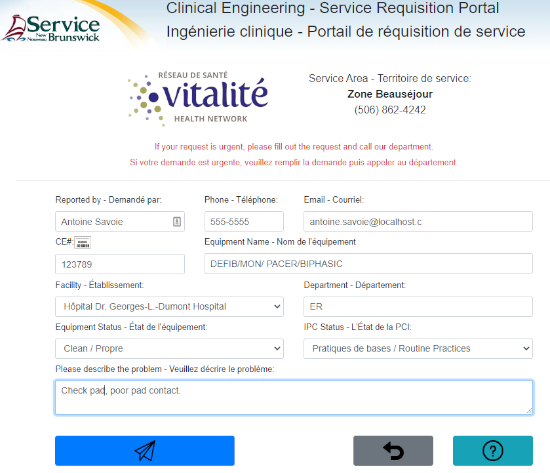 Not having this information upfront posed a risk the technologists as they would not know the appropriate level of Personal Protective Equipment to wear (PPE) while servicing medical equipment. This resulted in the push for the development of a new service request portal. This portal gave CE the ability to receive and track infection control information on the equipment being serviced.
The service requisition portal allows clinical users to send Clinical Engineering all the necessary information, including Clean Status and Infection Prevention and Control Precautions of the equipment before it ever enters CE's shops. The clinical departments receive a confirmation that their request was processed through a confirmation window and to the email submitted in the request.
The information entered via the portal is automatically transmitted into CE's database, Resource Management System (RMS), as a Task and assigned to the appropriate technologist thus eliminating the need to reprocess data and saving a lot of time.
The new portal serves as a standardized solution for receiving service requests across the province.
Article written by Eric Babineau, Dominick Valdron and edited by Ishtar Al-Tahir