Atlantic Canada Clinical Engineering Society (ACCES) - 2008 volume 3 newsletter  
Newsletter Volume 3 July 2008
The ACCES executive has met several times since the conference in Newfoundland. The 2009 Atlantic Canada Clinical Engineering Conference planning team has also been busy.
Updates on our activities are listed below.  
2009 Conference  
The team is coming together to plan for and execute the 2009 conference which will be in Halifax.
Ken George (IWK) and Mike Barton (CDHA) are co-chairing the event. The team they are putting together has met several times. Work is underway to select a conference management company to assist in execution of the event. The team hopes to announce a conference date shortly.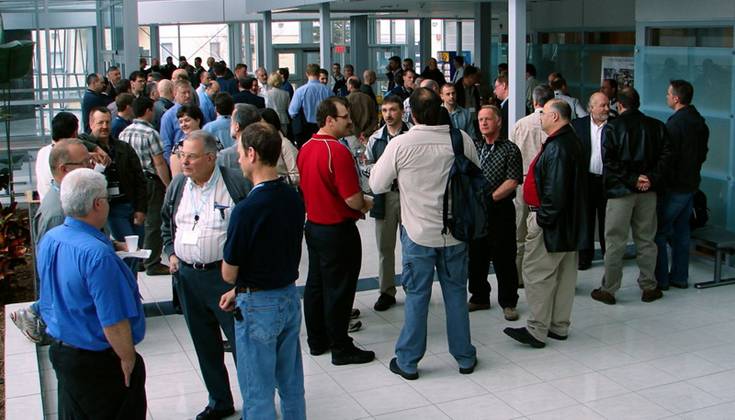 NFLD Conference 2008 St Johns 
Membership in the society 
Paul Auffrey has joined the executive as an officer of the society in the capacity of Secretariat. It is great to have Paul on board! He has completed compiling the membership applications we have to date. Notifications will go out to those that applied once we have the bank accounts and ecommerce pieces in place – expect late summer or early fall (see below – deliverables). Membership applications can be found on the website at http://www.accesociety.org/  
Executive Deliverables 
The executive has agreed individually to commit to deliverables that will benefit members and advance the goals of the society. They are listed below by executive member and portfolio. Also included are updates on each where applicable; 
Jeremy Dann – President  
I will compile and maintain a list of volunteers that will commit to supporting the societies activities. The list is available to the directors of the society from which they can select members for their committees. To be completed by the end of June 2008 (Executive have been supplied copies – Keith has used it to request volunteers for education committee)
I will work through the registration process for the society with the goal of making it a legally recognized entity. End of August 2008 (Completed paperwork and bylaws have been signed off by the executive. Package was sent off to the NS registry of joint stocks June 30th)
I will work with society volunteers on a Logo contest with the intent of giving the society an easily recognizable visual identity. End of October 2008 (Logo contest rules and guidelines are complete – Thanks Jason Symmonds! A corporate sponsor has been contacted)
I will review the requirements for liability insurance for the directors. BY end of July 2008. (Have been in contact with two insurance companies – insurance is complex and expensive. Executive decided to delay investigation for 1 year until we are fully on our feet)   
Dave Hancock – Professional Affairs 
Identify and draft letters to these organizations in the next 6 months to introduce ACCES and its purpose and mission. Deadline October 30, 2008
Work with Industry and Government to promote ACCES and clinical engineering professionals in Atlantic Canada. Identify and build database of industry and governmental groups with affiliation to clinical engineering. Deadline December 30, 2008
Promote the certification of clinical engineering professionals in Atlantic Canada.
Ongoing discussion with clinical, biomedical and other health care technology groups in Canada to determine best practice and pathway to increase certification activities.  Deadline December 30, 2008   
Dave Melnick - Treasurer
I will set up a banking account for the association through RBC by June 30/08. (Awaiting confirmation of registration of ACCES through NS Joint Stocks before proceeding – registration required to establish and account)
I will purchase account software for use in the association to keep records of all financial activities and statements by June 30/08. (MS Money being considered)
I will work with the executive to have our association designated non profit. This will enable our dues to be tax deductible. This will be accomplished as soon as possible for inclusion for the 2008 tax year.
Steven Lockyer – Director of Publications 
All executive member biographies and photos up on the website by July 1st, 2008. (All submissions of the exec are in for posting)
Continue to develop new web initiatives ( Steven has taken a course in the new web software and has purchased the template we will be using )
Have a new website published by the end of September.  This will include private members only section for organizing internal communications and a members list.
The new site will also include an ecommerce section to allow individuals to pay dues and receive any other payments necessary, vendor's registrations for the conference and advertising.
The site will also have an electronic interactive member's application.  
Keith Keough – Director of Education  
To establish initial contact with volunteers by July 1st, 2008. (complete – email out to group who have indicated an interest in volunteering on their application forms)
To establish a working group for education by August 1st.
To establish a detailed education plan by mid September.
To provide education sessions for our membership to enhance or obtain specific skill sets that will benefit them personally and professionally. Work closely with the executive to establish long term objectives and goals.    
SincerelyACCES Executive  
Do you want to contact an ACCES Executive Member? 
President Jeremy Dann    This email address is being protected from spambots. You need JavaScript enabled to view it.
Vice President Ron Johnson    This email address is being protected from spambots. You need JavaScript enabled to view it.
Director of Education Keith Keough    This email address is being protected from spambots. You need JavaScript enabled to view it.
Director of Publications Steven Lockyer    This email address is being protected from spambots. You need JavaScript enabled to view it.
Director of Professional Affairs David Hancock   This email address is being protected from spambots. You need JavaScript enabled to view it.
Treasurer David Melnick   This email address is being protected from spambots. You need JavaScript enabled to view it.
Secrétariat Paul Auffrey    This email address is being protected from spambots. You need JavaScript enabled to view it.