---

---
ACCES NEWSLETTER – Spring 2023
In this issue
President's Message
7 Weeks to ACCES25!
ACCES25 Financial Assistance
2023 Membership Drive Campaign
Do You Know an Outstanding Clinical Engineering Professional?
News from our Members
News from our Corporate Members
---
President's Message
March 2023
I am excited that Spring is in the air and the warmer weather is just around the corner. Although I am more excited at what's coming up in ACCES. Our annual membership drive is about to start, Biomed of the year and Lifetime achievement nominations will be coming in, and most of all, our 25th Annual Atlantic Canada Clinical Engineering Society's Educational Seminar and Trade Show is quickly coming up in Moncton in May.
Planning started in 2019 for ACCES25 and now finally in 2023 things are happening. Delegates are signing up, hotel rooms are quickly being booked, the education stream is set, and the vendor hall is all but full with only a couple of spots left. Really no need to say this, but the ACCES25 planning committee is doing GREAT work and ahead of schedule. Oh yes, just to drop a hint that while networking with your peers, you may want to "sharpen your axe".
During the conference, I look forward to seeing you at our Annual General Meeting, face to face. Besides our updates we will be seeking interest on various positions which are opening on our executive team. This is a great opportunity to be involved in Clinical Engineering within Atlantic Canada and a chance to make connection across the country. A chance to make a difference.
So yes, I am very excited. See you in May.

Brett Fraser
President - Atlantic Canada Clinical Engineering Society
---
7 Weeks to ACCES25!
May 9-12, 2023 – Delta Beausejour Moncton
Dear Friends and Colleagues,
The Atlantic Canada Clinical Engineering Society (ACCES) is pleased to invite you to the ACCES25 Conference taking place May 9-12th in Moncton, New Brunswick.
Don't pass up this unique opportunity to experience an educational and exhibitor event our society is able to offer. Our conference will have something to offer everyone. While attending the event, you can benefit from listening to some of the most progressive thinkers in our medical profession. Whether you are a Healthcare Administrator, Manager, Engineer, Technologist/Technician or Nurse/Clinician, there are several key benefits for you or your staff to attend. Some of these benefits are illustrated below:
Enhance your knowledge through Academic, Leadership and Technical/Clinical Education Streams.
Network and learn from colleagues from across Canada.
40 booths to visit in the Exhibit Hall representing a variety of interests including biomedical equipment vendors, test equipment vendors, alternative service providers, educational institutions, and government agencies.
Share knowledge and best practices with your colleagues.
Keep abreast of the latest technological advances and practices in our professions.
Stay Tuned for more details to follow.
Moncton, NB is a beautiful locale and a great area of Canada to visit. Come experience the hospitality of the Maritimes and enjoy the music and culture that makes this area renowned - you won't be disappointed. The 2023 ACCES25 Conference Organizing team is dedicated to organizing a truly memorable event. Your active contribution and participation is welcomed and we look forward to seeing you in Moncton, NB in May to celebrate our silver anniversary!
Please Visit our ACCES website for more information at:
http://accesociety.org/conferences
Sincerely,
ACCES Team
Note: For direct inquiries please contact Gary Slaunwhite or Sarah Meades at:
This email address is being protected from spambots. You need JavaScript enabled to view it.
This email address is being protected from spambots. You need JavaScript enabled to view it.
---
ACCES25 Financial Assistance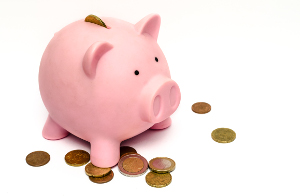 Need help attending ACCES25? Over the past couple of years ACCES has been in the fortunate position to offer financial assistance to a number of its members that wish to attend the annual ACCES Educational Seminars and Trade Expo. As in previous years there is now a formalized process to apply for financial assistance.
Funding is available to any regular members of ACCES within Atlantic Canada, that are currently members in good standing for at least two (2) consecutive years.
You can review the full Guidelines for Disbursement of Funds by clicking here.
To review additional conditions download the ACCES Expense Claim Form by clicking here.
After reviewing these two documents you can apply online by clicking here.
If you have any problems with the online form please contact the ACCES This email address is being protected from spambots. You need JavaScript enabled to view it.
To give the successful applicants time to make arrangements, the deadline for applications is March 31st, 2023.
---
2023 Membership Drive Campaign
Hello to all our ACCES members and our Clinical Engineering Community. Exciting things are starting to happen at ACCES, especially with our upcoming Conference in Moncton in May and the launch of the 2023 ACCES Membership Drive Campaign.
But first I need to explain what happened regarding our membership renewal process.
Due to the disruption of Covid we did not conduct a membership drive for 2022. Instead, for any active members as of March 2022, we extended the membership to March 2023 at no cost which allows your membership to be in good standing for those two full years! Please note that anyone that did pay their ACCES membership for that year, your membership has now been automatically extended to March 31, 2024.
So, for this years' membership campaign beginning April 1st, 2023, here is how the renewal process works:
Existing members can simply visit our ACCES website at https://accesociety.org/ , logon with your credentials, select the "Member's Corner" Icon on the following page and then renew your membership as you normally would.
If you are not an ACCES member and wish to become one, here is how to do that:
Go on to our website at: https://accesociety.org/, select the Icon "Become a Member", and follow the procedure to sign up on-line.
For new and existing ACCES members the cost of our annual membership is $35.00, and registration will commence April 1st. As always, we are offering a Membership Drive Gift to any regular member that signs up or renews during our "Early-Bird" period from April 1 to May 12th.
The membership gift this year is a Bamboo Pop Up Lantern with Bluetooth Speaker:

If you have any question, please reach out to This email address is being protected from spambots. You need JavaScript enabled to view it..
Respectfully,
Gary Slaunwhite
ACCES Director of Membership
---

Do You Know an Outstanding Clinical Engineering Professional?
We are calling out to the ACCES community for nominations for the 2022 "ACCES Clinical Engineering Professional of the Year Award" as well as the "ACCES Lifetime Achievement Award". This award will be presented at the upcoming ACCES Annual Educational Seminars and Trade Expo, being held in Moncton, NB May 9-12, 2023.
Past recipients of these awards can be found at https://accesociety.org/awards. More details can be found at https://accesociety.org/awards/84-awards/463-award-details. Our normal deadline for Nominations is March 1st but we have extended the program this year to allow nominations to be submitted through the ACCES website no later than March 31, 2023.
Once you have visited this offering on our ACCES website please follow the instructions on how to nominate an exceptional individual in either category by sending a completed Nomination Form to This email address is being protected from spambots. You need JavaScript enabled to view it..
Cheers,
Gary
---
News from our Members
Spotlight Matt Stacey - Part 1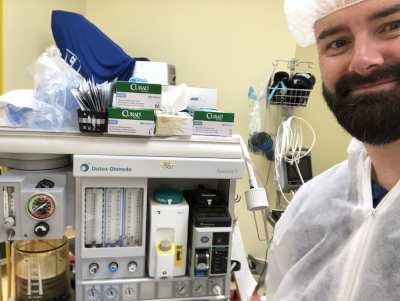 This Article is a 2-part series and follows the unique, yet exciting career journey of Matt Stacey, who has enjoyed a nearly 20-year Biomed career that is anything but ordinary, working in some of the most remote and isolated regions of Northern Canada. He is currently working as a Health Technology Management Consultant and based in Kentville, Nova Scotia.
Matt was born and raised in Carbonear, Newfoundland and Labrador. Growing up in a small town of roughly 5000 people, Matt believes that experience foreshadowed his work in rural and remote settings later in life. He was always the type of kid that enjoyed tinkering with electronics and taking them apart, figuring out how it worked, and then putting it back together. He didn't know it at the time, but this was the start of his Biomedical Engineering career.
The most significant influence in Matt's life that led him toward biomedical engineering was his grandmother. When Matt was around 10 years old, his grandmother developed kidney failure, which forced her to undergo hemodialysis treatments three times a week at the Health Sciences Centre in St. John's, NL. While visiting her at the dialysis unit, Matt was enthralled with all the medical equipment, how it interfaced with the patients and got to see some of the techs that were servicing the dialysis machines in action. This is what sparked Matt's interest in medical technology.
Even with these past experiences and after finishing high school, like most people, Matt still didn't really know what he wanted to do with his life. He was guided towards university, with a focus in pharmacy. After about a year and a half of university he realized that life was not for him, and he decided to push the reset button and start over.
It was at this point in his life that he thought back to his childhood passions and knew that he wanted to pursue some type of electrical or electronics engineering. Matt was lucky enough to know another native of Carbonear, NL, Michael Crawford, who was finishing up the biomed program at College of the North Atlantic in St. John's, NL. After speaking with Michael several times about the program and reflecting on his own interests and past experiences, Matt was sold. Biomedical engineering technology was to be his chosen path.
Finishing his diploma at the College of the North Atlantic in 2004. Matt said at that point, "like many Newfoundlanders at the time", he packed up and left for Alberta (Edmonton) with just enough money in his pocket to buy the plane ticket and a bite to eat on the other end. He ended up living in a 3-bedroom house with 12 other friends from Newfoundland. During this period, Matt was not able to find work in the medical technology field, instead he landed a job pulling and terminating Cat 6 cable for an Edmonton-based communications company. Luckily, this arrangement only lasted for 3 months before he got a call from Iqaluit, Nunavut to fill a casual biomedical technologist position.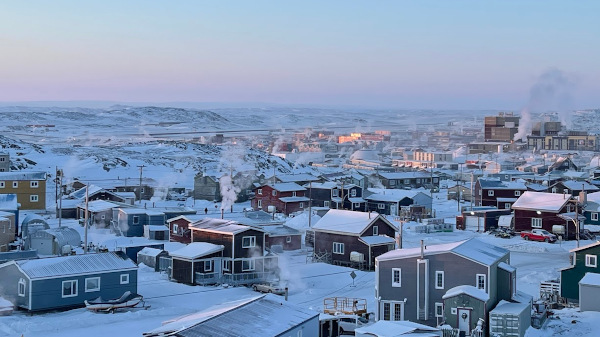 In November 2004, with a healthy mix of fear and excitement, Matt packed up and moved to Iqaluit, starting his first job as a biomedical technologist. He was eager to start and dove headfirst into the role. At the time he landed, he was the only biomedical technologist in the whole Territory, so he had no peers to lean on in his first official biomed role. This forced Matt to use the tools and knowledge he learned from school and his brief work term to figure out how to build and operate the program on his own. Matt recalls that at the time, his single most important guiding principle for his work was "If I'm not 100% confident a medical device I've worked on is safe to use on me or my family, it won't be used on anyone."
Matt was eventually connected with Kevin Taylor, a biomedical engineer and territorial manager of biomedical engineering in the Northwest Territories. Kevin was very influential early in Matt's career and continues to be one of his most trusted mentors.
Reflecting on the first couple of years in his career as a biomedical technologist, Matt stated: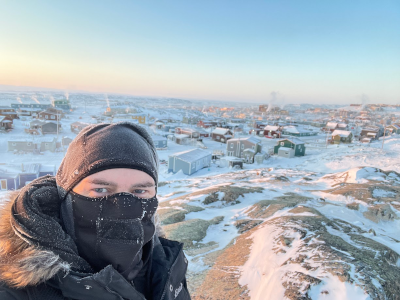 "It was super challenging, and stressful, but by going through that and coming out the other end, I believe the experience made me a much better technologist. It helped me develop a very strong work ethic and made me realize I also had a strong sense of curiosity and adventure that enabled me to go to the arctic to do this. It played a huge role in my development, not just professionally, but very much personally as well."
Matt worked there for 3 years, based out of the Baffin Regional Hospital, which had about 10-15 inpatient beds, ER, diagnostic imaging, laboratory, surgical services (two operating rooms), and several visiting specialty services (neuro, cardio, ophthalmology, ENT, etc.). In addition to the hospital in Iqaluit, Matt was also responsible for eleven (11) other community health centres in the Qikiqtaaluk (Baffin) region of Nunavut. This meant travel to some of Canada's most northern communities for inventory, assessment, repair and preventative maintenance activities.
It was in Iqaluit that Matt met his wife, Jacqueline, who was a new inpatient nurse at the hospital. At the time, Matt was the go-to guy for anything related to medical equipment, so he was often tasked with training some of the clinicians. Matt met Jacqueline through this process, sparks flew and she eventually "…was convinced that I was worth a shot".
After three years in Nunavut, Matt and Jacqueline left to pursue other opportunities. Matt found a traditional biomedical technologist role at Carleton Memorial Hospital in Woodstock, NB, which after only a short time, was moved to the new Upper River Valley Hospital in Waterville, NB. It was here he got the bulk of his service training on equipment such as ventilators, patient monitoring, and dialysis; the latter of which was very special to him because of his childhood experience visiting his grandmother on the dialysis unit in St. John's, NL. His role in New Brunswick enabled him to form strong relationships with his coworkers and really understand what it was like to work in a team-based and well-functioning biomed shop. After having worked in this environment for a few years, Matt felt the work he had done in Nunavut had been validated by his experiences in New Brunswick. He continues to have a great deal of gratitude for the support of his colleagues in New Brunswick and for the learning opportunities he had while there. Matt and Jacqueline spent five years in Woodstock, had their two daughters at the Upper River Valley Hospital where they both worked, and developed a special connection to New Brunswick.
Although the move to New Brunswick had been a very good one for Matt and his family, the allure of returning North again was strong. Hindsight being 20/20, Matt and Jacqueline realized how much they missed their northern lifestyle, their friends, and colleagues they had left behind. They also wanted to give their two daughters the opportunity to experience life in the Arctic. Having lived in Nunavut previously, they were very aware of the challenges and opportunities of working in remote and isolated communities. This time around they would also bring with them some tips and tricks on how to reduce the impact of the increased costs of living in the North, like the extremely high cost of food. So once again, Matt's journey was taking him to the North, the difference was this time he had the comfort of having his family by his side!
Part 2 of this spotlight article will be released in our next newsletter and will discuss Matt and his family's second go at life in the Arctic, as well as highlight his transition into some fascinating roles that have had some significant impacts on the delivery of healthcare in Nunavut. Make sure to tune in for part 2!
---
News from our Corporate Members

New Factory Authorized-Authorized Calibration and Service Center
Biolantic Services Inc. is excited to announce we have established our new factory-authorized calibration and service centre for biomedical test equipment right here in Atlantic Canada. We have seen the challenges associated with shipping test equipment outside the region and have been working diligently with Datrend Systems Inc.(a Canadian biomedical test equipment manufacturer) to make this long over-due service a reality.
We understand purchasing test equipment for your department is a long-term commitment and we are here to ensure you have the local support needed to maintain your equipment. Biolantic's Calibrations Service Centre is equipped with state-of-the-art calibration instruments, software, and follows the industry's best standards to ensure our professionally trained team can maintain your products at peak performance.
Biolantic provides on-site mobile and depot calibrations, training and support on a wide range of medical and biomedical instruments. We believe in building long-term business partnerships with our clients all while assuring reliability, quality, and professional local services. Please contact us at This email address is being protected from spambots. You need JavaScript enabled to view it. or directly at 709.690.7763 to learn more about Our products and services.
---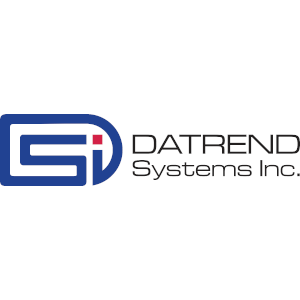 Datrend Systems Inc. is pleased to announce the successful launch of vPad-IV
vPad-IV is an expandable modular Infusion Device Analyzer that provides on-device user-managed automated testing. Built on the highly successful Vision-Pad platform, we have extended our modular design to this product by allowing customers to easily configure the system from 1 to up to 6 independent channels. The product features several industry firsts, including the ability to conduct up to six preventive maintenance inspections and testing on different devices at the same time, channel linking, and its easy-to-use auto-sequence editor.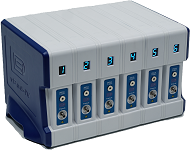 vPad-IV replaces our Infutest 2000, a product that has stood more than 30 years of testing in the market. Taking this experience, we have developed this next generation analyzer with the highest accuracy and the greatest test range.
For more information on vPad-IV (www.Datrend.com/Product/vPad-IV/) and other innovative products please visit us at www.Datrend.com or directly at 604.291.7747.
Datrend Systems Inc. is a Canadian-based biomedical engineering company focused on providing solutions and leading-edge biomedical test equipment for hospitals, clinics, and medical equipment manufacturers. Since our launch in 1991, we have expanded to service the global market with innovative solutions.
---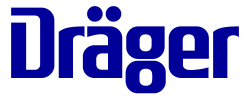 Introducing the new Dräger Oxymixer blender
For many patients, oxygen therapy is essential. However, patients require oxygen therapy that's precisely tailored to their needs. With the Oxymixer, you can easily and reliably set a precise oxygen concentration between 21% – 100% and control the concentration by mixing it with medical compressed air. This enables you to deliver oxygen therapy to neonates, children, and adults.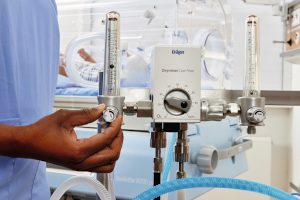 The Oxymixer provides a high degree of flow precision and may be ordered with an automatic bleed flow to ensure accurate O2 concentration at lower flows. An integrated on-off switch allows you to save gas if the bleed flow is not needed – which is essential to our environmental commitment and helps you manage costs.
The Oxymixer sounds an alarm if pressure is lost or the supply of air and/or oxygen is interrupted. For added safety, the optional oxygen monitor displays the O2 concentration. This makes the Oxymixer ideal for very sensitive and fragile patients, such as neonates.
Designed and manufactured in Germany, the Oxymixer is encased in a sturdy metal housing that protects it from damage – even in busy clinical environments.
For further information, please visit Oxymixer | Draeger or contact your Dräger Account Manager.
---

Introducing the New F&P 950 Humidifier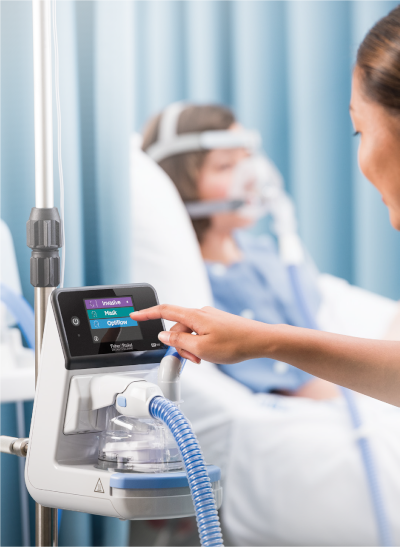 Fisher & Paykel Healthcare is passionate about producing world-leading healthcare solutions and is driven by innovation to enhance user experience and deliver greater health benefits. That is why we have advanced the design of the MR850 to produce the F&P950, a heated humidifier that offers greater usability and system performance. The F&P 950 System delivers consistent humidity over a wide range of environmental conditions, and up to 70 L/min with Optiflow™ Nasal High Flow therapy.
The F&P950 is easy to setup and use. Features include:
Integrated probes.
Temperature and flow probes have been integrated into the inspiratory limb and sensor cartridge, contributing to easier setup of the F&P950.
The integrated patient-end temperature sensor is disposed of with the single-use circuit, eliminating the need for disinfection or sterilization.
An interactive touch screen offers selection of Invasive, Mask, and Optiflow modes via a drop-down menu.
While operating in either Mask or Optiflow mode, the temperature can be adjusted to support patient comfort.
Fewer assembly connections. The number of connections is limited to enable easy assembly and decrease the potential for system alarms due to incorrect setup.
Link to F&P 950: https://www.fphcare.com/en-ca/hospital/adult-respiratory/invasive-ventilation/950-system/
F&P 950 education: https://resources.fphcare.com/public-courses/d14240c3-174d-4462-aa36-aae5a78dfb71/story.html
---

Introducing the New Surgical Shield Program
For more than 100 years, Olympus has been synonymous with superior visualization technology and delivering products to our customers aimed at improving surgical visibility through innovation.
However, we don't stop at just innovative products. At Olympus, we understand the importance of helping our customers keep pace with the latest technological advancements while also committing to a promise of performance, protection, support and uptime under a financial model that meets their changing needs.
About Surgical Shield
Surgical Shield offers telescope fleet management and product protection under one comprehensive umbrella, enabling customers to exchange or upgrade their surgical telescopes while controlling their service costs, guaranteeing uptime and meeting the changing demands of hospital budgeting requirements under one easy to use program.
Program features include:
Same-day Repair
Comprehensive protection
Premium optical and repair quality
Technology upgrade
Cost control and budget management
Other Olympus Service Offerings:
Investing in unique proactive measures that control your budgetary concerns and provide asset management guidance are invaluable. Olympus offers Full-Service Agreements for a variety of products to plan your facility's long-term operational budget by locking in complete service coverage at fixed rate.
To learn more about Surgical Shield or other Service Solutions offered by Olympus, please contact your local Sales Consultants below:
Jeff Sadler, Senior Surgical and ENT Sales Consultant, Email: This email address is being protected from spambots. You need JavaScript enabled to view it.
Robbie Sutherland, Urology Sales Consultant, Email: This email address is being protected from spambots. You need JavaScript enabled to view it.
Website: https://medical.olympuscanada.com/
Take a virtual tour of our service facility located in Canada: https://www.youtube.com/watch?v=IjN_SxeVhjQ
---

Formal Partnership with Osypka
Spectramedx is excited to announce our formal partnership with Osypka Medical as their exclusive distributor partner in Canada. Our new line includes an array of Health Canada approved external temporary pacemakers. We now offer single, dual and triple chamber temporary pacemakers to all Canadian hospitals. German designed and built, known for quality, the products bring novel features such as AutoSense, Pause Functions, Atrial Overdrive Pacing, Statistical Data and more. Contact our sales team today to learn more about the complete line.

Email: This email address is being protected from spambots. You need JavaScript enabled to view it.
Phone: (226) 666-1114
Learn more about our products & services at our website https://spectramedx.ca