ACCES is pleased to recognize Brady Spencer and Matthew McKenna as this year's annual bursary winners. A short bio can be found below for both winners:
Brady Spencer
Brady was born and raised in the St. John's, Newfoundland region (more specifically, Conception Bay South). He is currently enrolled at Memorial University full time in faculty of Physical Education.
Brady has always been passionate when it comes to sport, playing volleyball, hockey, and basketball locally, where he represented his school or minor sports association at the provincial level for all 3 of the mentioned sports. Outside of sports, Brady is an outdoors person, enjoying camping and fishing, as well as spending quality time with his friends and family.
It is Brady's passion for sports throughout his life that led to him enrolling into Physical Education. Brady understood early that having great support and leadership is really what allowed him to thrive during his athletic career and helped shape him into the man he is today. Brady hopes that he can instill the same attributes that was passed on from his coaches and leaders including leadership, sportsmanship, teamwork, inclusion, respect, and work ethic into his future endeavors as a coach/mentor.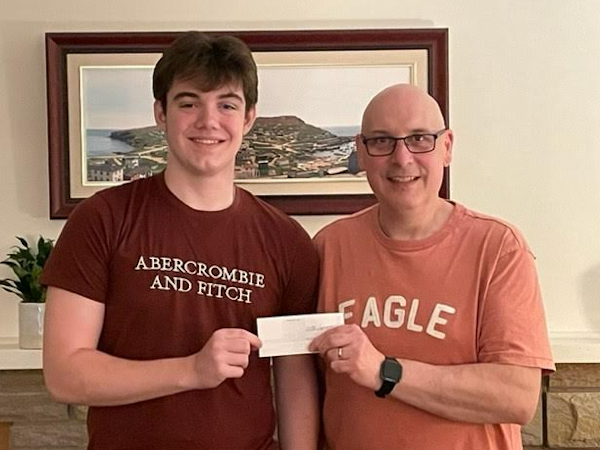 Brady pictured above receiving his cheque with his father Kelly Spencer
On behalf of ACCES we want to say congratulations Brady and keep up the great work!
Matthew McKenna
Matthew describes himself first and foremost as an "proud islander", growing up in rural PEI, where he is currently enrolled at UPEI in their Sustainable Engineering Program. Matthew's passions include snowboarding, speedskating (where he represented PEI in the 2019 Canada Winter Games), biking, helping with family building projects, aviation, music (playing the saxophone), and also prides himself in having an environmentally conscious mindset which is clear given his enrollment in the Sustainable Engineering Program.
Matthew always enjoyed hands-on work, even having worked with an architect for 3 years prior to his enrollment at UPEI. Here he learned important skills that will help him in his future career including drafting building plans, writing code reviews, and performing progress reports on site. These skills gave him a great appreciation for the amount of work involved in large building projects, as well as instilling important life skills in which he can apply throughout many everyday situations throughout his life.
Matthew also has a love of aviation, mentioning that no matter the season, his thoughts were always dominated by this topic. He loves spending time on his flight simulator, researching the latest technologies in space flight, or keeping up with the newest innovations in flight which include watching the Discovery Shuttle launch from Cape Kennedy.
Matthew has his sights set on furthering his education in a field that combines his passion for innovation and sustainability. He is extremely dedicated and will draw on his past experiences to help him throughout his journey.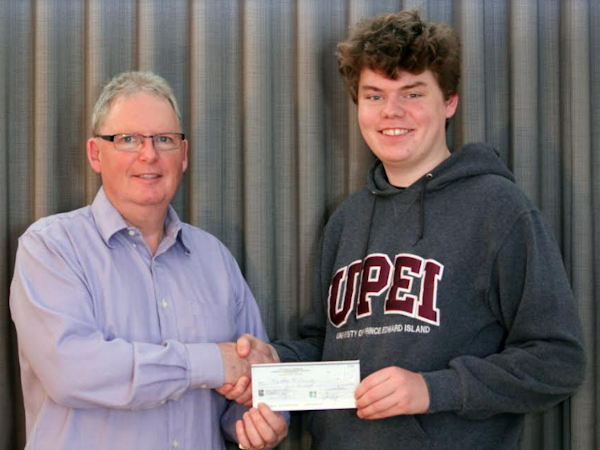 Matthew pictured above receiving his cheque from his father, Brendon McKenna.
We at ACCES have no doubt Matthew will be successful in any endeavor he may choose and wish him all the best!