Service New Brunswick Clinical Engineering team submitted this post to recognize Ishtar Al-Tahir, who had the opportunity recently to share her innovative research at a conference in the Netherlands: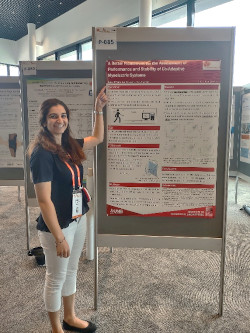 Ishtar Al-Tahir, Clinical Engineer (MIT) with Health Services, completed her Master of Science in Engineering with the Institute of Biomedical Engineering at the University of New Brunswick in 2021. Ishtar was recently selected to share the findings from her degree at the International Consortium for Rehabilitation Robotics (ICORR) during the Rehab Week 2022 conference in Rotterdam, The Netherlands.
Ishtar's research and thesis focused on myoelectric control, which uses muscle signals as an input to control an output device, such as a prosthetic limb or assistive device. Through designing and conducting a 10-day pilot experiment, Ishtar focused on co-adaptive myoelectric systems where both user and machine adapted as the user tried to control a cursor on a computer screen. Data was gathered and analyzed from a perspective that had not yet been applied to co-adaptive systems. The results clarified key attributes of co-adaptive systems and will allow future research to focus on these new attributes to develop more robust co‑adaptive myoelectric systems. Due to these novel results, Ishtar was accepted to share her findings at the ICORR 2022 conference.
She presented her research through a poster presentation. The first day offered workshops on clinical applications mixed with state-of-the-art engineering topics. The remainder of the conference allowed participants to network and attend presentations on as many as eight different topics of rehabilitation. Ishtar met many renowned academics and researchers in the field of rehabilitation and robotics and was able to share her work with them. She also took advantage of demos available throughout the conference from companies that offer exoskeletons, hospital equipment, and at-home rehab care.
After the conference, Ishtar took some time to explore the city and its surroundings and learn some Dutch.
Ishtar will be moving to a new role as Clinical Engineer at the Children's Hospital of Eastern Ontario (CHEO) starting mid-October!!
Congratulations, Ishtar!