ACCES NEWSLETTER – FALL 2019
In this issue
President's Letter
Director of Communications Vacancy
Website Upgrade
Banner Contest
News from our Members
News from our Corporate Member
---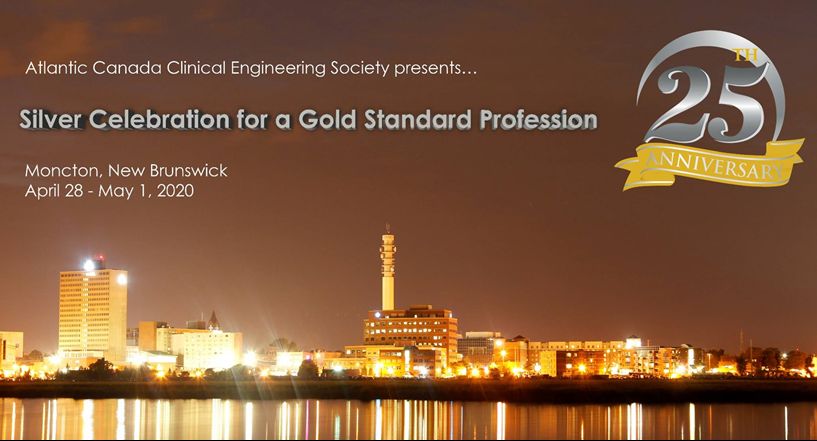 ---
President's Message

Well it's that time of year where we are all looking forward to spending time building memories with our family and friends. Hopefully you will be one of the lucky ones who will enjoy some extra vacation time off outside the holidays to do so.
During your time off though I do ask for you to think about a couple of interesting challenges that ACCES is putting forward.
First, we have and exciting contest in which you can be involved in and mark your place in the history of ACCES with the development of a new banner. Our current banner needs a refresh and your design will be displayed proudly across Atlantic Canada.
Second, we are looking for a Director of Communications. This role will work closely with the ACCES executive team to help move ACCES forward to meet our mission to support the Clinical Engineering profession in Atlantic Canada.
In this newsletter you will find articles pertaining to the above as well as an interesting spotlight on Marwan Abouelela, a reminder to attend the ACCES25 Educational Seminar and Trade Expo, and news on the brand new ACCES website that just released last month. Also take some time to see what our corporate members have new in the medical field.
Once again, enjoy you time off and Merry Christmas and Happy New Year.

Brett Fraser
President, ACCES
---
Director of Communications Vacancy
Have you ever wanted to expand your professional horizons and looking for opportunities that could help open new doors. We may just have that opportunity.
The ACCES Executive Team is seeking such an individual to work on our team as the Director of Communications. This role will require you to collaborate with a team of volunteers from across Atlantic Canada dedicated to supporting the Clinical Engineering professionals within our region. We strive to meet our mission to develop and promote opportunities for continuing education, personal growth, sharing of experience, adoption of standards of practice, and certification.
As the Director of Communications, you will ensure that the ACCES community is kept well informed of upcoming events and initiatives though periodic notifications and quarterly news letters. Our Executive meeting are held monthly and conducted virtually with outcomes on how we can fulfill our mission statement and grow the Clinical Engineering community.
If you would like to find out more, please contact Brett Fraser at This email address is being protected from spambots. You need JavaScript enabled to view it.
We are looking forward to hearing from you and having the opportunity to work with you to grow in this position.
---
Website Upgrades

As you may have noticed, the ACCES website has undergone a makeover. These changes were mandatory as we were on end-of-life software and hardware. As many of us can attest from our field, change is the only thing that stays constant!
Frontpage wise, are small estetic changes. Under the hood is a whole new structure with current technologies and opportunities for new functionality.
We now have SSL support for encrypted traffic throughout our site for an extra layer of privacy. Rest assured about the financial transactions made previously, as these are made directly through the PayPal site and their respectable reputation.
There might be dead links with all these changes. If you are missing a particular article of interest, you can use the website's search function or let the webmaster know at This email address is being protected from spambots. You need JavaScript enabled to view it..
If you have an interesting new feature or article, we could find useful, please share it with us.
---
Banner Contest
Announcing an exciting new contest and a chance to win a 

$2000

 Prepaid Credit Card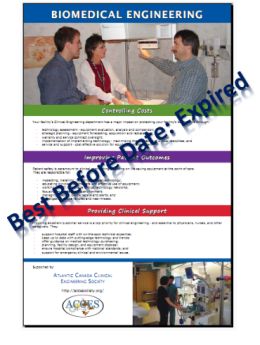 Our current ACCES Clinical Engineering Banner is getting a little outdated and we need your help to design a new one. Since 2009 you have seen the ACCES banner being proudly displayed at the annual ACCES Educational Seminar and Trade Expo and throughout healthcare facilities across Atlantic Canada.
But our current banner's time has come to an end, and like the Clinical Engineering profession, it must evolve.  It's time to modernize the banner and rejuvenate its look.
That is where we need your help and where an exciting contest comes into play.  This is a call out to all the artistically gifted, graphic design inclined individuals or groups, to develop an informative, Eye-Catching and more modern looking banner.
The individual or group that comes up with the best banner design, as judged by our Banner Selection Committee (BSC), will be awarded a whopping $2,000 prepaid credit card to be spent in any manner they so choose.
The winning banner will be selected based on the following criteria and timeline:
Only ACCES current and regular members will be eligible to enter the contest, (i.e., Atlantic Canada members).
December 31st, 2019 - Contestants to register by email 

This email address is being protected from spambots. You need JavaScript enabled to view it.

 .Name and contact only, we can do the rest.
Submitted conceptual artwork and banner content design can be in Word, PowerPoint, or scribbled on paper. If you choose to raise to the next level and present a complete finished design or anything in between, then go for it!  Whatever level you want to take it to will be accepted by the BSC.
January 25th, 2020 - Final conceptual submissions must be received.
The BSC will award the contest to the individual or group based on how modern, eye-catching and informative the design is.
February 7th, 2020 - The BSC will notify contestant That gives you 2 months to commit and work on the design… Don't procrastinate and miss out!!!
April 1st, 2020 - The selected individual or group to complete the design to the BSC's satisfaction.
The award will not be paid out until the banner design is completed to the BSC's satisfaction.
Once the design is complete, the BSC will facilitate production of the banners and ordering of stands.
April 30th, 2020 - Unveiling at the Silver Anniversary ACCES25 Educational Seminar and Trade Expo hosted in Moncton, New Brunswick.
ACCES reserves the right to void this contest if submissions do not meet the BSC's criteria. The winning submission or any submission entered becomes the sole property of ACCES, where the entrant relinquishes all rights to it.
---
News from our Members
Spotlight Fall 2019 - Marwan Abouelela
The ACCES Executive would like to welcome Marwan Abouelela as a Director at Large to our team.
Marwan joined IWK Health Centre in 2017, bringing with him over twenty (20) years of diversified experience in healthcare including project management, marketing, medical affairs, sales management and leadership roles.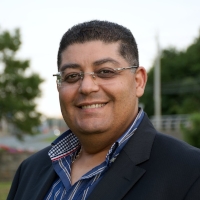 Marwan's journey in healthcare started in 1996 as a clinician in Egypt. Two years later his career path changed as he joined a multi-national pharmaceutical corporation located in the Gulf region. He initially worked for American corporates; Pfizer, Johnson & Johnson then transitioned to a French corporate; Sanofi and finally to a British corporation; GlaxoSmithKline.
Marwan stepped the career ladder, commencing as a professional medical representative, then product specialist, biotech specialist, product manager, franchise manager, line manager, and finally the head of the business unit. In 2016, Marwan ended his career in the pharmaceutical industry. At that time, he was also a board member of the executive leadership team for the Pharma International Company. Through those years, Marwan accumulated exceptional leadership abilities and resourceful skills in corporate communication as well as strategic high-level project management in healthcare.
In 2012, Marwan immigrated to Canada with his wife and two daughters. His wife is currently working as a pharmacist in Shoppers Drug Mart in Halifax and his oldest daughter is studying science in Dalhousie University, meanwhile his youngest daughter attends Halifax West High School. Recently, Marwan has accomplished a master's degree in health informatics from Dalhousie University and then started as a health informatics intern at the IWK Health Centre. Currently he is working as a clinical informatics project manager for IWK Health Centre where he leads NICU/PICU clinical alarm management projects, NICU/PICU redevelopment task force as well as their MedSurg beds replacement program. Also, he is the clinical informatics lead of Chez NICU Home project, new pharmacy website project, as well as the provincial OPOR project.
Marwan is inspired to put his education and experience into large scale clinical informatics and digital transformation projects to support the evolution of medical technologies and related services in the healthcare sector.
Marwan also has a special passion for squash being a certified Canadian squash coach, team captain and a competitive player in the leagues and tournaments around the Maritime. He is also a member of the board of Squash NS as the Director Developmental Programming. He assists Squash NS President in the overall function of the association while chairing the developmental program committee for junior squash players. Both of his daughters represented were in 2019 Winter Canada Games as members of the junior provincial team of NS. His oldest daughter is currently the president of Dalhousie Squash Club.
The ACCES Executive team would like to once again welcome Marwan to our team and looking forward to working alongside with him in the future.
Spotlight and news articles featuring colleagues and fellow ACCES members can be submitted at any time to our President.
---
News from our Corporate Members
Dräger

Have you logged in to ServiceConnect® lately?
Dräger's online ServiceConnect portal provides a wealth of information to help you keep your equipment running smoothly.
Online parts catalogue
Software downloads
Device preventive maintenance schedules
Repair documentation
Service announcements and alerts
Available in English and French
drager-service-connect
You can log-in to ServiceConnect here to see recent updates, including the Isolette 8000/8000+ PM kits, Oxylog 2000/3000 PM Kits and the Evita V500/VN500 PM instructions.
If you do not have access to ServiceConnect, or if your subscription has expired, please contact your account manager.
Note: ServiceConnect is intended for biomedical engineers who have attended Dräger Technical Training courses.
---
Philips


Philips Healthcare Education can help unlock the full potential of your staff, technology, and organization through innovative, meaningful, and event-based education. Our comprehensive, clinically-relevant courses, programs, and learning paths are designed to help enhance operational efficiency and provide high-quality patient care. Through an engaging and comprehensive offering of advanced learning opportunities, we can teach staff how to best use products, help educate them in clinical specialties, and provide non-clinical professional development. All of our courses are designed to help enhance operational efficiency and quality of care.

Click here to discover more.
---