ACCES NEWSLETTER – WINTER 2018
In this issue
Message from the President
ACCES23/CMBES41 Joint Conference
Need Help Getting to ACCES23/CMBES41
Do you know an Outstanding Biomed/CE Technologist
ACCES 2018 Bursary
CE Week 2018 Photo-Contest Winners
ACCES Membership Drive 2018
News from our Members
News from our Corporate Members
---
Message from the President
Dear ACCES Community,
Along with the ACCES executive team, I would like to start out with welcoming you all to 2018. This year will bring one of the biggest Clinical Engineering Educational Seminars and Trade Expos held in Atlantic Canada for some time with CMBES and ACCES combining efforts in Charlottetown during the second week of May.
The committees behind the event are working hard and timelines are being met with the recent opening of the vendor's registration site and the call for CMBES papers. Stay tuned for the delegate registration site launch, so that you can sign up for opportunities to network with your peers from across Canada, attend educational seminars from world-renowned speakers, visit with any of the 50 different vendors in the Exhibitor's Hall, and enjoy the hospitality of the Island.
Each year, the executive team is constantly striving to better support our Mission statement and develop and promote opportunities for continuing education, personal growth, sharing of experiences, adoption of standards of practice, and certification. We are excited to support this statement by beginning 2018 with awarding our first ACCES bursary offering to a future technologist. Moving forward, we hope to develop new ideas to support our membership, and we encourage you to contact us at any time with ideas of your own. We want to build our society together!
Sincerely,
Brett Fraser
ACCES President
---
ACCES23/CMBES41 Joint Conference

May 8-11, 2018
Delta Prince Edward Island, Charlottetown, PEI
Dear Friends and Colleagues,

The Atlantic Canada Clinical Engineering Society (ACCES) and the Canadian Medical and Biological Engineering Society (CMBES) are pleased to invite you to the ACCES23/CMBEC41 Joint Conference taking place May 8-11th in Charlottetown, Prince Edward Island.

Don't pass up this unique opportunity to experience an educational and exhibitor event our two societies are able to offer. Our conference will have something to offer everyone. While attending the event, you can benefit from listening to some of the most progressive thinkers in our medical profession. Whether you are a Healthcare Administrator, Manager, Engineer, Technologist/Technician or Nurse/Clinician, there are several key benefits for you or your staff to attend. Some of these benefits are illustrated below:

Enhance your knowledge through Academic, Leadership and Technical/Clinical Education Streams.

Network and learn from colleagues from across Canada.

50 booths to visit in the Exhibit Hall representing a variety of interests including biomedical equipment vendors, test equipment vendors, alternative service providers, educational institutions, and government agencies.

Share knowledge and best practices with your colleagues.

Keep abreast of the latest technological advances and practices in our professions.

Planning underway for dedicated Stream Seminars for those preparing for CBET Certification.

Vendor service education being provided by Masimo and Philips.

Stay Tuned for more details to follow.

Charlottetown PEI is a beautiful locale and a great area of Canada to visit. Come experience the hospitality of the Maritimes and enjoy the music and culture that makes this area renowned - you won't be disappointed. The 2018 ACCES23/CMBEC41 Joint Conference Organizing team is dedicated to organizing a truly memorable event. Your active contribution and participation is welcomed and we look forward to seeing you in Charlottetown, PEI in May!
Please Visit our ACCES and CMBES websites for more information at:

http://accesociety.org/
http://www.cmbes.ca/

Sincerely,
Your 2018 ACCES23/CMBEC41 Joint Conference Organizing Team

Note: For direct inquiries please contact Gary Slaunwhite or Sarah Meades at:
This email address is being protected from spambots. You need JavaScript enabled to view it. ACCES23/CMBEC41 Conference Marketing Director
This email address is being protected from spambots. You need JavaScript enabled to view it. ACCES23/CMBEC41 Conference Administrative Support
---
Need Help Getting to ACCES23/CMBES41?
ACCES is once again able to offer financial assistance to a number of its members that wish to attend the annual ACCES Educational Seminars and Trade Expo. Funding is available to regular ACCES member within Atlantic Canada, under certain conditions. Visit our website to learn more on how to apply. Application deadline is March 31st, 2018
---
Do you know an Outstanding Biomed/CE Technologist?
We are calling out to ACCES Members and non-members for nominations to the ACCES Clinical Engineering Professional of the Year Award, handed out yearly at the ACCES Annual Educational Seminars & Trade Expo. Travel expenses, accommodations and conference fees will be covered for the award recipient. You can find more information on the Award at: http://accesociety.org/awards. Nominations need to be submitted through this website. Nominations deadline is March 1st, 2018.
---
ACCES 2018 Bursary
ACCES is proud to announce its very first bursary recipient: Nicolas Chassé, son of ACCES member Mario Chassé. Nicolas will be using the $500 bursary to attend a course in electronics engineering technology, intending to follow in his father's footsteps and to one day become a clinical engineering technologist (pictured below: Nicolas Chassé with ACCES member and proud father Mario Chassé). Congratulations, Nicolas, and best of luck!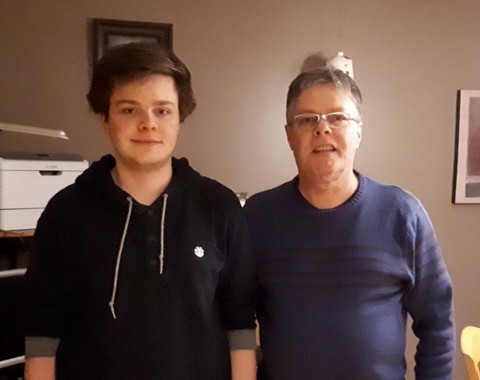 ---
CE Week 2018 Photo-Contest Winners
The winners from last year's ACCES Clinical Engineering Week (CE Week) photo-contest have finally been revealed on the ACCES website. We were quite surprised with the creativity in this year's submissions – don't believe us? Have a look!
The bar has definitely been raised a few notches with these submissions. We encourage all ACCES members to put on their thinking caps and start thinking of ideas for creative ways to celebrate and promote our profession during this year's upcoming Biomedical and Clinical Engineering Week in May 2018.
---
ACCES Membership Drive 2018
With the beginning of a New Year, ACCES is once again ramping up for its yearly Membership Drive. Cost of membership is only $25, and all new and renewed members will receive a one-of-a-kind ACCES-branded item if they purchase or renew before April 30th, 2017. This year's giveaway will be a branded carabiner-style power bank – to charge all your devices when you're on-the-go. Keep an eye on your emails in the coming months for your personalized Membership Renewal mailing, containing a link to the ACCES membership renewal page with auto-filled information – it only takes 2 minutes to renew!
---
News from our Members
Spotlight and news articles featuring colleagues and fellow ACCES members can be submitted at any time to our Director of Communications
---
News from our Corporate Members
---
Better patient care with the touch of a finger.

Philips Azurion's easy-to-use, intuitive platform is designed to help you perform procedures more efficiently and consistently. With Azurion, a smooth workflow will quickly become a reality.

Discover how at https://www.philips.ca/healthcare/resources/landing/azurion
---
Babyleo® TN500 Incuwarmer – Redefining Thermoregulation

The Babyleo provides optimal thermoregulation in open care, closed care and transition – all with one device. One of the thermoregulation elements is the dual radiant warmer, which automatically adjusts to ensure uniform heat distribution on the mattress, even when it is tilted.

For more information about the Babyleo:

https://www.youtube.com/watch?v=BMhzIzHDWy4


Babyleo in the open position illustrating the dual radiant warmer
---
ICU Medical

high-performance infusion pumps make it easy for you to deliver exceptional patient safety and care. Our focused portfolio features proven, innovative smart pump and pain management technology designed to help meet your clinical safety and workflow goals. The powerful ICU Medical

MedNet™ safety software

helps to reduce medication errors and raise the bar for your medication management system. And, with an eye to the future, our Plum™ family of smart pumps with ICU Medical MedNet are designed to integrate with your electronic medical record (EMR) systems through our

IV Clinical Integration solution.



---
Natalie Boudreau, MIT
Director of Communications
Atlantic Canada Clinical Engineering Society (ACCES)