ACCES NEWSLETTER – SPRING 2017
---
Charitable Donation Matched
ACCES made a charitable donation of $1,000 to the IWK Foundation during an IWK Radiothon on February 3rd, 2017. At the time the donation was made, the Sleep Country mattress store had made a commitment to match all donations for the hour, so our $1,000 donation was matched by Sleep Country and will now have twice the impact it would have had. Something for our Society to feel good about!
---
ACCES 22 Educational Seminars and Trade Expo
- Registration: Early bird registration deadline has been extended to April 21st 2017. Clinical Engineering Technology, Internet of Things (IoT) and Leadership are being offered as educational streams. Visit the registration site to learn more and to register.
-Financial Assistance: Over the past couple of years, ACCES has been in the fortunate position to offer financial assistance to a number of its members that wish to attend the annual ACCES Educational Seminars and Trade Expo. Funding is available again this year to any regular ACCES member within Atlantic Canada, under certain conditions. Deadline for applications is April 21st 2017. Visit our website to learn more
---
News from our Members
-This month's member spotlight article features Dan Burrill, an ACCES member who is based at the Moncton City Hospital and who has quite a unique career progression, from his formative years to his soon-to-be retirement.
- (Reminder: spotlight and news articles featuring colleagues and fellow ACCES members can be submitted at any time to our Director of Communications)
---
Educational Sessions
You may have noted that the educational sessions (webinars) we wanted to offer this winter did not take place as planned. Due to unforeseen circumstances, we have had to postpone this item for a few months, but we would like to assure our members that we have a great lineup of educational sessions through webinars that are being planned for the coming months.
---
Membership Drive
- Updates: A new article with updates on the 2017 ACCES Membership Drive from our very own Director of Membership, Gary Slaunwhite, has been posted on our website. Click here to read the article.
- There is still time: If you haven't yet renewed your membership this year, or if you are thinking of becoming an ACCES member for the first time, you still have time to qualify for this year's membership drive giveaway, a tactical LED flashlight. Click here to learn more or to register.
---
Elections and Nominations
Time is flying by for the ACCES executives. Some of our two-year terms are already coming to an end in May, and we have an immediate need for individuals who will invest themselves in making for a strong executive dedicated to the mission and objectives of the society. The future of the society depends on the involvement of clinical engineering professionals like you! If you're interested in getting involved, click here to submit your nomination or nominate someone you know who would be interested. Elections will be held in conjunction with the annual meeting at the conference in Moncton NB, in May 2017.
---
Clinical Engineering Week
The cheques have been distributed to last year's ACCES Clinical Engineering Week photo contest winners, to help them plan this year's celebrations on May 21 - 27, 2017. How will you celebrate? Whether you set up a booth and/or display with photos and information, hold an open house, deliver a presentation or celebrate at a department meeting, don't forget to snap a picture with the ACCES logo and send it to our Director of Communicationson or before June 1st 2017 for a chance to win $200 for next year's celebrations.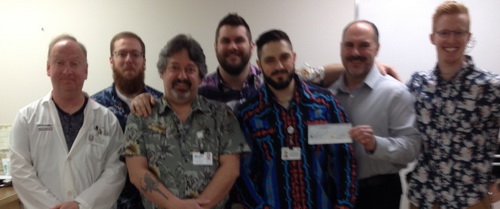 Pictured is the Fredericton Clinical Engineering staff being awarded their $200 cheque for last year's winning picture submission. Left to right Nolan Williams, Jeremie LeBlanc, Mike Smith, Greg Wallace, Joel Robichaud, Brett Fraser ACCESS President, and Darren Saunders. Missing from the picture are Zandra Rubinger and Danny Lynch.
---
A Little Birdie Told Me…
Did you know ACCES posts news and pictures on Twitter? You can follow us @ACCESociety for news and info, and remember to use the hashtag #ACCES22 during the upcoming Educational Seminars and Trade Expo.
---
News from our Corporate Members
Babyleo sets a new standard in neonatal care - Introducing the first IncuWarmer from Dräger
Canada – The new IncuWarmer Babyleo TN500 from Dräger offers optimal thermoregulation in open care, closed care and transition. The device provides a stable micro-environment for the premature baby and is also very quiet, typically operating at 40 dB(A). The wide-ranged height adjustment function, jumbo hand ports and an easy-to-open hood allow clinicians and parents to comfortably and efficiently provide care to the premature baby. An integrated audio system and kangaroo mode help actively involve Parents in caring for their child.
Together with the neonatal intensive care team, medical technology plays an important role during the first hours, days and weeks, for premature babies, especially if they are extremely premature and very low birthweight. The Babyleo IncuWarmer offers optimal care for open and closed care in a single device and is designed to help make care processes easier and more efficient. Babyleo helps to reduce stress for the baby, the device provides superior thermoregulation via three synchronized heat sources to ensure the temperature is maintained even when the hood is opened. A constant supply of warmth is especially criticial for the healthy development of the premature baby.
https://www.draeger.com/en-us_ca/Hospital/Products/Thermoregulation-and-Jaundice-Management/Neonatal-Closed-Care/Draeger-Babyleo-TN500?cid=em-ca-2017-03-16-tn500-launch-
Philips Healthcare Education- Meaningful learning for enhanced patient care
The Philips Learning Connection is an online healthcare education experience like no other, including our online course catalog of over 1,700 courses and activities to help enhance operational efficiency and quality of care. We invite you to explore our catalog by profession, product, or clinical specialty area, learn more about our Custom Learning Solutions, Learning Paths, and register for our bimonthly Education Newsletter. https://www.learningconnection.philips.com/en
---
Natalie Cormier, MIT
Director of Communications
Atlantic Canada Clinical Engineering Society (ACCES)