ACCES NEWSLETTER – Spring 2020
In this issue
President's Letter
Director of Communications Vacancy
Clinical Engineering Week Photo Contest
Heartbeat - CE's Covid-19 Response
ACCES 2020 Annual General Meeting
2020 Membership Drive
2020 Bursary Recipients
News from our Members
News from our Corporate Members
---

---
President's Message
Depending on how you marked your calendar, Atlantic Canada is in the 10th week of dealing with the COVID-19 Pandemic. During this ordeal Clinical Engineering departments throughout our four provinces were tasked to help prepare our healthcare facilities for the influx of pandemic patients. We were involved with establishing COVID Care Areas within the hospitals, prepping or sourcing extra equipment, assisting with External Clinics used to conduct testing, and ensuring that our healthcare community was prepared to meet this challenge. Each province has experienced the effects on COVID differently, but with our help we were ready for what ever came our way.
Because of COVID, celebrating Clinical Engineering week this year may not have been the same as in the past with social distancing and public safety in mind. Perhaps we could not host our departmental tours, put up displays, or serve cake in the cafeteria, but rest assure our profession was recognized by others. You may not have gotten that pat on the back but it's not because people did not want to.
The biggest impact I personally felt due to the pandemic was the postponement of ACCES25 Educational Seminars and Trade Expo. The disappointment was felt by the complete conference planning team. This team was very excited and couldn't wait to show you what they had planned for the Silver Anniversary, a lot of hard work had gone into this event to make this year extra special. The good news is that all these plans are only delayed as next years date has already been selected back in Moncton from May 26th – May 28th. In a few months the planning team will dust off the files and start preparing for ACCES25…..version 2.
A very quick reminder that the 2020 ACCES membership drive campaign is coming to an end very shortly. If you have not done so yet, sign up before May 31 to ensure that you also can receive the ACCES branded members appreciation gifts. It only takes 2 minutes to renew! Simply log onto the ACCES website and renew your membership anytime at your convenience via the Member's Corner.
Finally, I would like to reach out to our members in Nova Scotia. You have experienced extra tough times over the last two months. The complete ACCES executive team are thinking of you and your families that may have been touched by the recent tragedies. Stay safe and know that Atlantic Canadians are a strong nit family and support comes from many direction… Nova Scotia Strong.

Brett Fraser
President, Atlantic Canada Clinical Engineering Society
---
Director of Communications Vacancy
Have you ever wanted to expand your professional horizons and looking for opportunities that could help open new doors. We may just have that opportunity.
The ACCES Executive Team is seeking such an individual to work on our team as the Director of Communications. This role will require you to collaborate with a team of volunteers from across Atlantic Canada dedicated to supporting the Clinical Engineering professionals within our region. We strive to meet our mission to develop and promote opportunities for continuing education, personal growth, sharing of experience, adoption of standards of practice, and certification.
As the Director of Communications, you will ensure that the ACCES community is kept well informed of upcoming events and initiatives though periodic notifications and quarterly news letters. Our Executive meeting are held monthly and conducted virtually with outcomes on how we can fulfill our mission statement and grow the Clinical Engineering community.
If you would like to find out more, please contact Brett Fraser at This email address is being protected from spambots. You need JavaScript enabled to view it.
We are looking forward to hearing from you and having the opportunity to work with you to grow in this position.
---
Clinical Engineering Week Photo Contest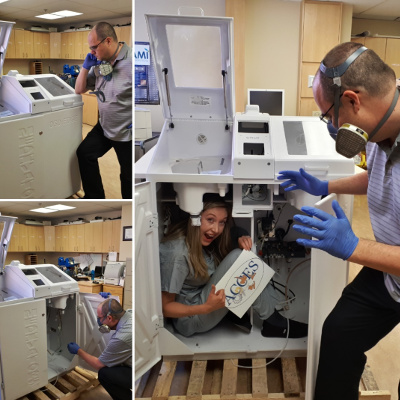 Biomedical and Clinical Engineering departments across Canada celebrated the National Biomedical/Clinical Engineering Appreciation Week on May 17-23, 2020. As part of the celebrations, ACCES is once again launching a photo contest to all its registered members in Atlantic Canada.
In the past we have received many pictures from your departmental CE Week activities. From celebrating with others while sharing cakes in your cafeteria, holding interactive contests, to standing alongside your displays in your lobbies. Although this year may not allow for those type of photos, we do encourage that you submit pictures on what ever way you celebrated. Keep them simple or take them to the next level to make your photo stand out, but send them in no matter what. The only caveat is that the ACCES logo must be visible in the photo as can be seen below from one of the 2019 successful winners.
Please submit your eligible Photos to our This email address is being protected from spambots. You need JavaScript enabled to view it. by June 19th, 2020 to qualify. Please limit submissions to one (1) per department. There will be three (3) winners drawn from the submissions, who will each receive a $200 cheque from ACCES to be used for Biomedical/Clinical Engineering Week activities in May 2021.
Our ACCES Executive would like to wish all of you a happy Biomedical and Clinical Engineering appreciation week. This is a great time to show off your colors. After all, promoting awareness helps our Society's mission and objectives and further strengthens our shared profession throughout our hospitals and communities!
---
Heartbeat - CE's Covid-19 Response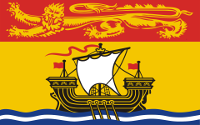 We know there has been a lot of work and extra efforts required of Clinical Engineering teams throughout Atlantic Canada. You may know of your efforts inside your own province, but we thought this would be a great avenue to share some other experiences.
New Brunswick
Exceptional work of our Clinical Engineering teams meant that we were prepared for the worst and that we will be ready for the next wave. This Heartbeat article will focus on New Brunswick's Clinical Engineering Team.
Multiple Critical Care areas throughout 11 of New Brunswick's larger regional hospital required major equipment planning and redeployment. This included the set up of dedicated COVID-19 units to prepping and reconfiguring equipment for pre-existing critical areas such as Emergency and Operating Rooms. External Care areas were also established outside the hospitals as was seen at the Moncton Coliseum where patient monitoring equipment to Mobile X-rays units were deployed.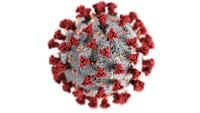 An increase in equipment inventory required to treat and test for COVID-19 across the province. Following is a short list equipment that were added:
Extracorporeal Membrane Oxygenation (ECMO) - 66% Increase

Ventilators – 65% increase

Portables RO System – 15% Increase

Mobile X-Ray Units – 10% Increase

Humidifiers – 7% Increase

Laboratory Analyzers Used for testing

And much more
Incoming inspections and setup were needed for all this equipment. Challenging enough with a full compliment of staff, but still accomplished while working in some areas with only 50% of the staff scheduled during a shift rotation as part of a mitigation strategy to minimize the spread of COVID-19 within their departments.
Continually working closely with hospital/regional infection control committees to adapt Clinical Engineering's processes to align and roll-out infection control guidelines and general precautions specific to COVID-19.
Newfoundland and Labrador
Newfoundland and Labrador experienced similar challenges as other healthcare facilities across Canada. One well established service that Eastern Health would improve upon was the Virtual Care area.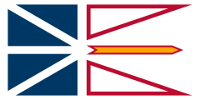 Based on the three Pillars:
Patient Impact

Health Care System Impact

Provider Impact
These Pillars leveraged the pre-existing virtual solution to expand and deliver healthcare needs during COVID-19 to a regional population of over 300,000.
Eastern Health had to quickly expand their virtual care solutions across the organization including telehealth, remote patient monitoring technology, and other technologies to enable health-care providers to virtually communicate with patients. Some of the solutions leveraged to enhance the virtual care was the use of Telehealth (Jabber), Remote Patient Monitoring (Health Harmony), Zoom and Electronic Medical Record (EMR) Virtual Visits.
Utilization of virtual care not only allowed Remote Patient Monitoring (RPM) of COVID-19 positive patients but reduced other types of hospital visits and protected front line staff from potential exposure to the virus.
Installation of hard-wired cameras were employed in critical care areas and inpatient rooms to enable bi-directional communication. Along with iPads, RPM, and Jabber-based technology, these devices enabled healthcare providers to communicate directly with patients without entering the patient's room.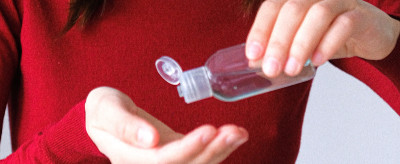 Did you know: Newfoundland's Liquor Corp, Rock Spirits bottling plant has been repurposed to produce hand sanitizer that would be used by healthcare workers, first responders, and the general public. Over 120,000 liters of hand sanitizer has been produced using a formula that was developed by the WHO and licensed by Health Canada. They have secured enough ingredients to produce a total 400,000 Liters.
Did you know: PolyUnity Tech Inc., a local 3D-printing software company which initially partnered with the Eastern Health Regional Health Authority as part of their innovation strategy "Innovating Together – An innovation strategy to guide creative thought and action in Eastern Health: A Living Lab" shift their resources to develop over 9,000 face shields for frontline workers. These shields were certified as Class 1 devices by Health Canada at the end of March.
Nova Scotia
Equipment needs in the Central Zone was initially a whirl wind as the pandemic spread across the country and the United States. Working closely with colleges in Logistics, they identified critical care equipment that would be required and procured as quickly as possible. In some case this equipment has still not arrived.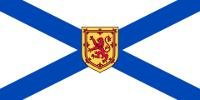 Their equipment inventory increased in a matter of a couple days:
986 Finger SPO2 Sat Monitors for COVID Assessment Centers

552 Large Volume Infusion Pumps

34 Vital Signs Monitors

6 B650 bedside monitors, 1 central station, 8 telemetry monitoring units

8 B450 Transport monitors for our various ICU's

Added 5 ICU Patient Monitor Systems to PACU B, plus a central monitor with Laser Printer
Quickly the Central Zone changed pre-Covid planning for a province wide infusion pump deployment. Instead 500 stored infusion pumps were prepped and redeployed to ICUs in only a couple of weeks.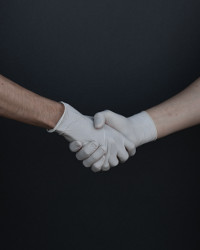 HANS Clinical Engineering team received a wide awaking while inspecting third party refurbished ventilators. During the inspection process and follow up with the OEM, the team discovered that the devices had been previously marked for disposal in the country of origin. Showing that thorough inspections are paramount even in time of dire need for life critical equipment.
Covid-19 did not stop the IWK team from moving forward in deploying and upgrading a fleet of 135 beds throughout their facilities. The advantage of moving forward with this rollout of new beds is that the replaced beds would be freed up for use in other areas that had expanded in preparation for a influx of pandemic patients.
The Central Zone's Clinical Engineering team dealt with social distancing a little differently. Instead of split shifts or working one week on one week off, they recognized that it would be best not to deplete the team. How best to accomplish social distancing in the workplace then by spreading your team out within the facility, move away from all staff being in one office space.
Additional foresight was taken by the Central Zone in case a large portion of staff was off sick by reaching out to retired staff members to assist if the workforce was depleted. Also, agreements were developed with Facility Maintenance to share staff if needed.
Prince Edward Island
Clinical Engineering assisted in establishing a multi-level treatment approach to their Emergency Rooms. From a Triage Trauma level, to multiple levels of Critical Care, to the final level deemed Safe and Secure.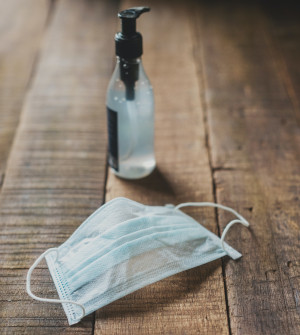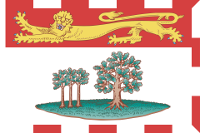 A Respiratory Care unit was created within the Emergency Rooms with temporary walls, negative air pressure, and a dedicated central monitoring system specific to that area. The nurse call system had to be re-configuration and CCTV installed in a re-purposed classroom which would be used as a COVID waiting area.
Other temporary Critical Care areas would soon follow the same path as the Emergency Rooms with temporary walls, extra equipment, reconfiguration of the nurse call systems, and negative pressure for isolation.
As PPE processes were implemented and cleaning guidelines put in place, Clinical Engineering added a mandatory check box "Surface Disinfected" to their online workorder to ensure that staff always knew that equipment was safe to handle.
Influx of COVID related equipment which required inspections and deployment, all with staff working on alternate days to reduce the potential of infection.
---
ACCES 2020 Annual General Meeting
The AGM will be held on June 23rd, at 7:00 pm and can be accessed by the following link https://global.gotomeeting.com/join/869898885 or by dialing into +1 (647) 497-9373 and using access code: 869-898-885
The Executive Team will deliver their annual report and take questions during this time.
Several Executive positions are open this year. If you are interested in joining the ACCES team and would like more information please visit the ACCES Executive Structure page or contact ACCES AGM Info.
---
2020 Membership Drive
A reminder that Members renewing before May 31st 2020 are eligible to receive the ACCES promotional items. This year's promotional items are a duo of ACCES branded reusable straw and multi-tool.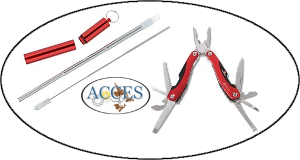 Keep an eye on your email as there will be a final mailing before deadline is reached. The Membership Renewal mailing contains a link to the ACCES membership renewal page with auto-filled information – it only takes 2 minutes to renew! Alternatively you can also login the ACCES website and renew your membership anytime at your convenience via the Member's Corner.
---
2020 ACCES Bursary Recipients
ACCES is proud to announce its 2020 bursary recipients: Jesse Hare, son of ACCES member Eddie Hare (Nova Scotia); and Corey Smith, son of ACCES member Michael Smith (New Brunswick).

Each recipient will be awarded $500 to help cover the cost of attending postsecondary education institutions in Atlantic Canada.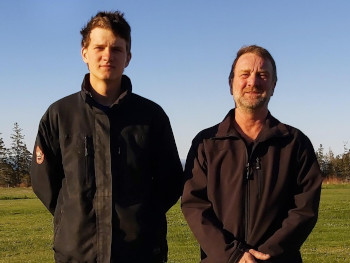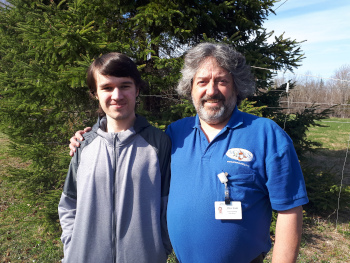 Congratulations, Jesse and Corey, and best of luck in your studies!
---
News from our Members
If you have any noteworthy stories or events you would like to share with ACCES, I invite you to forward them to us via our This email address is being protected from spambots. You need JavaScript enabled to view it. mailbox.
---
News from our Corporate Members
Dräger
Dräger Service is committed to ensuring that we remain as fully operational as possible during the Covid-19 pandemic, while protecting our team and yours. Therefore, we continue to carry out installations, preventive maintenance and repairs in consultation with you to support your business continuity.
Dräger has established a Covid-19 web page with numerous resources for hospitals, including IFU's, trainers, videos, customer letters and reprocessing information.
Tech Support, our live phone support, is operating normally. This service is available to all customers at no charge, including 24x7 emergency phone support for most devices. We experienced an increase in the number of calls and average call length in April, as many hospitals were recommissioning older ventilators. However, our team managed the surge and are now receiving normal call volumes again.
We are currently planning to support hospitals with increased volumes of accessories and consumables, as elective surgeries re-start.
Please contact us if you need information about Dräger technical services or products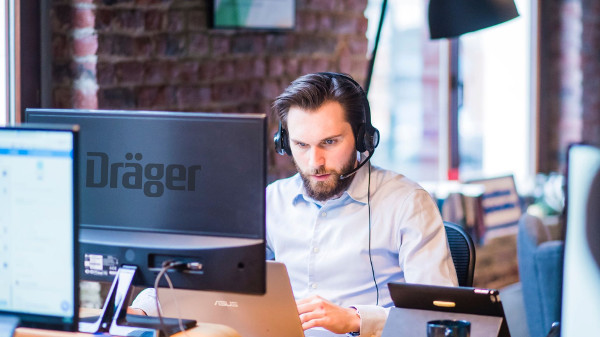 ---
Vocera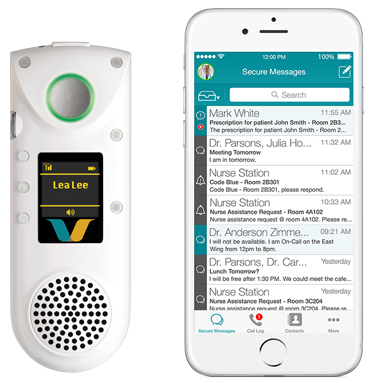 Vocera also has solutions to assist the efforts on the Covid-19 Pandemic. Here is an excerpt of the Wave3 New article:
Healthcare workers are on the front lines of all of the coronavirus pandemic, testing and treating patients.
As people continue to find ways to get personal protective gear to that front line, a communication device is helping local doctors and nurses keep safe. It's a device similar to an Amazon Alexa or Siri, called Vocera.
The device allows healthcare workers to communicate in real time and doesn't require them to take off the personal protective gear. Local hospitals, including UofL Hospital and Hardin Memorial Hospital, use them.
"It's really been a game changer for us just everyday emergency department life," Deanna Parker, assistant vice president of emergency services at Hardin Memorial Health, said.
Here are more resources about the Vocera platform: