---

---
ACCES NEWSLETTER – Winter 2021
In this issue
President's Letter
Director of Communications Vacancy
2020 ACCES Clinical Engineer of the Year
Heartbeat - New Brunswick Covid-19
ACCES Bursary Application
Clinical Engineering Certification
CESO 2021 Annual Conference
CMBEC44
News from our Members
Natalie Boudreau - Making a Difference
News from our Corporate Members
---
President's Message
January 26, 2021
Hello ACCES, I am personally looking forward to 2021 and glad to have 2020 in the books with all the life changing events that it has brought to each of us.
We have just lived through one of the toughest years in our life. We all have been affected by the pandemic in one way or another, either through family or in our field of work. Many extra hours were put in and many first time asks of Clinical Engineering services, challenges which we met face on and in many cases went above and beyond.
With the burden of the pandemic and its uncertainties, I have some bad news to share, ACCES25 must be once more postponed.
It was decided early in the fall that with no definitive timelines for an approved vaccine, that we could not plan for and hold a Spring 2021 ACCES Education and Trade Show. This event takes a very large investment of time and effort which can not be lost to a cancellation at the very last minute.
The exciting news is that you can mark ACCES25 in your 2022 calendars for April 27 to 29 in Moncton, New Brunswick. We already have vendors knocking on our doors, keynote speakers booked, and venues confirmed to greet you. Most importantly, the ACCES planning committee chaired by Natalie Boudreau, is geared up and ready to start once again.
This year, in lack of a 2020 ACCES Education and Trade Show we still had the opportunity to award a Clinical Engineering Professional Award. I won't give it out the recipient here, you'll have to read on in the ACCES newsletter to find that out.
It is also that time of year when the ACCES Executive team will be offer bursary opportunities to our members and their immediate family. This will be the fourth year of offering two $500 bursaries, last year we were happy to award both.
Finally, your memberships appreciation gifts from the 2020 drive have not been forgotten and will be sent to you shortly. My apologies to all our members for not having these distributed faster then this.
2021 will be so much better.

Brett Fraser
President, Atlantic Canada Clinical Engineering Society
---
Director of Communications Vacancy
Have you ever wanted to expand your professional horizons and looking for opportunities that could help open new doors. We may just have that opportunity.
The ACCES Executive Team is seeking such an individual to work on our team as the Director of Communications. This role will require you to collaborate with a team of volunteers from across Atlantic Canada dedicated to supporting the Clinical Engineering professionals within our region. We strive to meet our mission to develop and promote opportunities for continuing education, personal growth, sharing of experience, adoption of standards of practice, and certification.
As the Director of Communications, you will ensure that the ACCES community is kept well informed of upcoming events and initiatives though periodic notifications and quarterly news letters. Our Executive meeting are held monthly and conducted virtually with outcomes on how we can fulfill our mission statement and grow the Clinical Engineering community.
If you would like to find out more, please contact Brett Fraser at This email address is being protected from spambots. You need JavaScript enabled to view it.
We are looking forward to hearing from you and having the opportunity to work with you to grow in this position.
---
Joel McEvoy - 2020 ACCES Clinical Engineer of the Year
Our selection for the ACCES 2020 Clinical Engineering Professional of the Year is Joel McEvoy. He is currently the Interim Manager of Clinical Engineering at the IWK Health Centre in Halifax, NS.
Joel started his professional journey in 1996 when he completed his Electronics Engineering Technology Diploma (top of his class) at Fanshawe College. He followed this with his Biomedical Technology Diploma, graduating in 1997.
His Biomedical career started at Sick Kids Hospital in 1998. He soon realized he had a passion for Pediatric Ventilation and Critical Care and dove into all he could learn about Ventilation, Anesthesia and other Biomedical devices in a short period of time.
With a desire to expand his knowledge he went back to the books and received his Bachelor of Applied Science in Technology Management from Bemidji State University in 2009.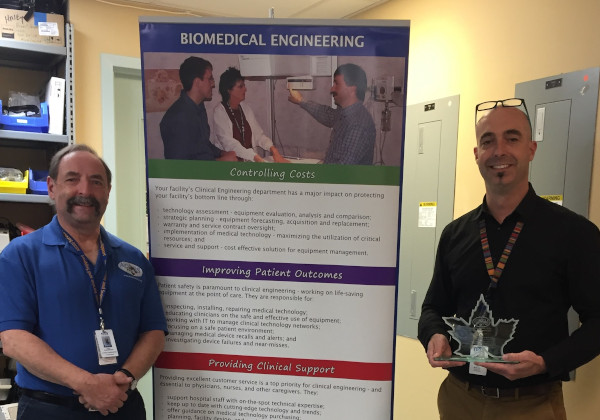 From left to right: Gary Slaunwhite, Joel McEvoy
Joel then took on an additional responsibility when the Sick Kids Biomed Department added Holland Bloorview Kids Rehabilitation Hospital to their realm. He signed up for the Biomedical External Consultant Role and developed a Medical Device Management program for that site.
In 2010 Joel and his wife Julie moved to the East Coast where Joel accepted a position with HANS and picked up where he left off at Sick Kids. In 2012 he played a vital role in HANS moving to the new hospital in Truro, NS.
Looking to expand his professional career he joined the IWK in 2016 where he joined the Critical Care team and specialized equipment in Departments such as Respiratory Therapy, PICU, EHS, and Emergency Services. He was widely embraced by the staff which soon realized the talents he possessed. He was eager to dig in with anything that came his way, sharing information with others, and offering to assist others where needed.
After a few years, Joel accepted the TAO (Technology Assessment Officer) position. His responsibilities increased dramatically but as always he was eager to learn and succeed as he became involved in such things as Procurement of new Medical Devices, Project Management Committees, and assisting the department Manager when needed. His door has always been open to handle any issues that require urgent attention and Joel is always willing to mentor others.
In June 2020, Joel accepted a greater challenge when he accepted the position of "Interim Manager of Clinical Engineering" at the IWK. He carries out the duties and responsibilities of this position with the same passion and excitement he has always exhibited with previous positions.
In summary Joel is a "Professional" in the truest sense where he has an undying passion to succeed in his profession while serving as a mentor to others, and continually promoting the Clinical Engineering profession while in his position or as an Executive Team member of ACCES.
---
 Heartbeat - New Brunswick Covid-19
Clinical Engineering in New Brunswick had many Covid-19 related task, but the pandemic didn't stop healthcare from moving forward in the Province.
Clinical Engineering assisted in the opening of a new OR expansion at Moncton's George Dumont University Hospital Center and the deployment of new patient bedside monitors in late 2020. While at the same time providing pandemic support and ensuring PMs on life-critical medical equipment were performed. Noting that the team at the George Dumont was made up of many new members in Gen/Med, so quite an impressive achievement!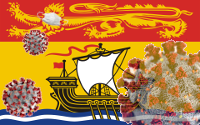 Like all Healthcare across the country, NB's Clinical Engineering helped redeploy equipment province-wide to set-up Covid-19 treatment units/beds in every corner of the province. Furthermore, they supported the Regional Health Authorities with an influx of newly purchase ventilators which increased their ventilator fleet by over 50%.
And what do you do when your field service representative can't visit your facility, Clinical Engineering had to find creative ways to maintain medical equipment through virtual support. Utilizing MS teams, cross-provincial support where there were trained techs, performing PMs on devices under full or shared service contracts, etc. All to ensure New-Brunswickers can continue to receive the care they need and deserve, despite the pandemic.
Last but not least, a new project has been rolled-out to standardize service requests to CE province-wide, through a web request portal, allowing for all information on infection control to be made available to techs at the time of request. Allowing them to do their risk assessment and wear appropriate PPE before getting their hands on a device, thus contributing positively to the province's response to Covid-19.
Continually working closely with hospital/regional infection control committees to adapt Clinical Engineering's processes to align and roll-out infection control guidelines and general precautions specific to COVID-19.
---
ACCES Bursary Application
The Atlantic Canada Clinical Engineering Society (ACCES) has a mission to promote the clinical engineering profession within the healthcare community and to support clinical engineering professionals working in Atlantic Canada. As such, ACCES is invested in developing and promoting opportunities for continuing education, personal growth, and certification amongst its members.
In keeping with its mission, ACCES has created two $500 bursaries. Each bursary will be awarded yearly to an ACCES member with a Regular Membership in good standing for the last two consecutive years, or to a person considered immediate family* of that ACCES member, who is attending a course or program at a post secondary institution in North America and is experiencing financial need. Applicants must be in good academic standing.
The ideal candidates will be pursuing studies in a field related to clinical engineering or healthcare, will have worked or be intending to work in clinical engineering, and will be leaders in their community, capable of promoting or advancing the clinical engineering profession within Atlantic Canada.
All potential candidates are encouraged to apply regardless of their field of study or work history, but preference will be accorded to those potential candidates directly studying or working in a field related to clinical engineering.
Applicants will be scored on their field of study, work history, academic standing, community involvement, and financial need.
Deadline to apply is February 28th. The application can be found here. Please forward application and relative documents to This email address is being protected from spambots. You need JavaScript enabled to view it..
* For the purposes of the selection process for this Bursary, immediate family is defined as: spouse or common-law partner, parents, siblings, and children, where family ties can be either direct, in-law, adoptive, half, or step. ACCES reserves the right to request proof of relationship at any time during the selection process.
---
Clinical Engineering Certification
ACCES and the Canadian Board of Examiners invites all Engineers to get certified in Clinical Engineering this year.
The ACCES Mission Statement is "to support Clinical Engineering professionals working in Atlantic Canada. We strive to develop and promote opportunities for continuing education, personal growth, sharing of experience, adoption of standards of practice, and certification. We will represent our members to government and promote the profession within the health care community."
A certified Engineer has a moral and legal obligation to ensure patient safety, ethical practice, and a duty of care to the public. It is your personal choice to represent this officially with a certification in your profession. 
Be part of the regulated healthcare professions in Canada (Provincial and Federal)
Get recognition of professional competency in the role of Clinical Engineering (on-going through licensure) for your peers and C-suite (executives and senior administrators of organizations)
Get an edge ahead for career advancement and opportunities both Nationally and Internationally
You can visit the American College of Clinical Engineering certification page at https://accenet.org/CECertification/Pages/Default.aspx or consult this flyer for more information.
---
CESO 2021 Annual Conference

CESO 2021 Annual Conference will be offered this year virtually February 8 - 12 from 12:00 - 3:00 pm EST
The full program and the registration page can be found at www.ceso.on.ca.
Cost for the week is $150 per individual, $750 for an organization of 5 or more. Students can attend for a fee of $10 per.
For additional information contact:
Peter Austin
CESO
This email address is being protected from spambots. You need JavaScript enabled to view it.
---
CMBEC44 - Virtual Conference

The Canadian Medical and Biological Engineering Society (CMBES) Annual Conference is the premier event for biomedical engineering professionals in Canada. Mark your calendar for May 11th-13th 2021. The themes for this year are:
COVID Response Innovation
Medical Device Development
Artificial Intelligence in Medicine
Cybersecurity
You also have the opportunity to submit and present a paper or abstract for the online proceedings, listen in on workshops regarding issues affecting you today and participate in a virtual exhibit environment.
Visit www.cmbes.ca for more information.
---
News from our Members
If you have any noteworthy stories or events you would like to share with ACCES, I invite you to forward them to us via our This email address is being protected from spambots. You need JavaScript enabled to view it. mailbox.
---
Natalie Boudreau - Making a Difference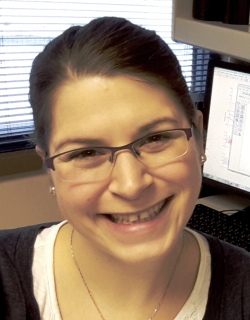 Natalie Boudreau, M.A.Sc., P.Eng.
For those that know or have worked with New Brunswick's Natalie Boudreau, you can easily see that she is a driven individual focused on moving Clinical Engineering to the forefront of patient safety through technology.
Natalie was recognized by the Association of Professional Engineers Geoscientist New Brunswick (APEGNB) in their Fall 2020 publication of ENGEOActions on the work that she led her team to meet COVID-19 head on. The article can also be found on the Engineers Canada Website.
The article published in Engineers Canada
Please take the time to visit these sites. Well done Natalie and keep up doing what you do.
---
News from our Corporate Members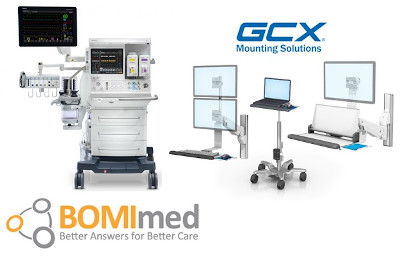 We are pleased to announce a new partnership between BOMImed and GCX Corporation. GCX is the leading developer of medical device and IT hardware mounting solutions for healthcare providers and OEMs. GCX products are warranted to be free of defects in materials and workmanship for a period of five (5) years from date of delivery.
Providing quality solutions with exceptional service. Click here to learn more.
BOMImed Technical Support Team offers prompt professional service for Anesthesia, Respiratory, Infant Warming and Patient Monitoring equipment. We ensure you get the best service possible. Our service representatives undergo continual factory level training and refresher courses to stay current with changing technologies.
Join our team, we're hiring! Technical Service Representative – Atlantic Canada.
BOMImed is looking for an outgoing, passionate, self-starter who has an interest in travel, technical service and healthcare to join our Technical Service team for the Atlantic Canada territory. This hardworking individual does not require service experience however, they need to have proven experience demonstrating responsibility and dependability. For further information, please click here.
---
Dräger Infinity® Gateway Support Contracts
Helps your staff maintain uptime and cybersecurity

The Infinity® Gateway Suite integrates data from Dräger monitoring and therapy devices with lab results, data in electronic medical records, and clinical information systems across hospital departments – enabling you to access and exchange information for a more comprehensive view of your patients.
To help you maximize the performance of Infinity Gateway, Dräger is pleased to offer Support Contracts that give your staff easy access to Dräger support. These contracts include a remote inspection every 2 years, which includes functional tests of performance and network communication, Gateway software upgrade (if applicable), and testing of the installed options. Dräger Remote Data Connection (RDC) must be installed so that Dräger can access your hospital remotely.
With a Support Contract, you can access Dräger's Infinity Gateway support 24x7x365.
For further information please contact your Dräger Account Manager, Peter Dicks, at This email address is being protected from spambots. You need JavaScript enabled to view it. or refer to our webpage Infinity® Gateway Support Contracts | Dräger (draeger.com)