Gary Slaunwhite was CMBES' 2021 selection for the Outstanding Biomedical Engineering Technologist award. Gary is currently employed in the Clinical Engineering department of the IWK Health, in Halifax, Nova Scotia as a Biomedical Engineering Technologist, Team Lead.
Gary's path to the Clinical Engineering world began nearly 40 years ago, after graduating from NSCC (then NSIT) in Engineering Technology. Soon after graduating, Gary took a job with GE in the servicing of Diagnostic Imagining equipment back in 1979, servicing ultrasound, CT, and nuclear medicine devices. Gary quickly discovered a passion for the line of work and was eager to continue learning, while also meeting new customers and building strong relationships with the users, something that he believes is a fundamental tool that all BMETs should strive for. Gary continued this role for 24 years, and near the end of his tenure with GE, managed to simultaneously complete his B.Tech degree from Memorial University remotely. After doing so, he decided he wanted to try something new that would have him closer to home spending more time with his family, and not on the road as much. So in 2005, Gary accepted a position at the IWK. When asked about this decision, Gary mentioned that at first, it felt like he was starting from scratch, but quickly realized that he was surrounded by great coworkers who shared the same passion for the field, and were extremely friendly and accommodating. With this, Gary knew he made the right decision to join the team at the IWK.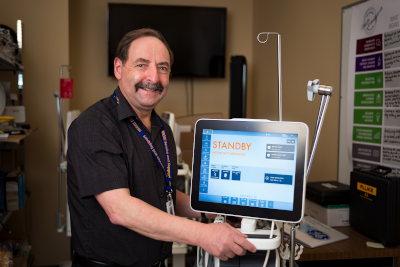 Gary has been there for over 15 years now and even accepted the role of Team Leader around 2015, where he continues to provide excellent service, as well as mentoring newer Biomeds entering the field. Gary never shies away from helping others with problems no matter what he's doing, or how busy he is and believes that sharing knowledge and strong communication skills are the backbone of a good BMET. When asked what advice he would have for newer BMETs entering the field, Gary said the following:
"I think the most important thing that younger Biomeds who are entering the field can do is to have a constant thirst for knowledge, and never pass up an opportunity to learn something new. A willingness to learn and share knowledge with your colleagues goes a long way. Following up on your work and communicating with the users to ensure completeness to help build confidence with said end-users. Adaptability will also be a crucial skill for any new biomed, given the ever-changing landscape of medical technology. Finally, be proud of the profession and help promote it to other disciplines throughout healthcare."
Outside of the Clinical Engineering world, you can find Gary active in his community of Halifax, where he grew up and has never left. He met his wife Beth while servicing with GE at the VG hospital, and they now have 4 children. In his leisure time, Gary enjoys being active in sports including baseball, squash, and golf. He also enjoys live music, travelling, and spending quality time with friends and family, all of which he swears helps him stay young at heart!
Below is a picture of Gary (left) accepting this prestigious Outstanding Biomedical Engineering Technology the Year award being presented by another ACCES member (and Gary's former manager) – Joel McEvoy. We at ACCES would like to personally congratulate Gary on this outstanding achievement and thank him for his tireless efforts in promoting the Clinical/Biomedical Engineering field on a national level. Way to go Gary!