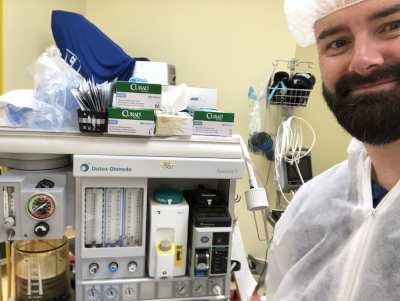 This Article is a 2-part series and follows the unique, yet exciting career journey of Matt Stacey, who has enjoyed a nearly 20-year Biomed career that is anything but ordinary, working in some of the most remote and isolated regions of Northern Canada. He is currently working as a Health Technology Management Consultant and based in Kentville, Nova Scotia.
Matt was born and raised in Carbonear, Newfoundland and Labrador. Growing up in a small town of roughly 5000 people, Matt believes that experience foreshadowed his work in rural and remote settings later in life. He was always the type of kid that enjoyed tinkering with electronics and taking them apart, figuring out how it worked, and then putting it back together. He didn't know it at the time, but this was the start of his Biomedical Engineering career.
The most significant influence in Matt's life that led him toward biomedical engineering was his grandmother. When Matt was around 10 years old, his grandmother developed kidney failure, which forced her to undergo hemodialysis treatments three times a week at the Health Sciences Centre in St. John's, NL. While visiting her at the dialysis unit, Matt was enthralled with all the medical equipment, how it interfaced with the patients and got to see some of the techs that were servicing the dialysis machines in action. This is what sparked Matt's interest in medical technology.
Even with these past experiences and after finishing high school, like most people, Matt still didn't really know what he wanted to do with his life. He was guided towards university, with a focus in pharmacy. After about a year and a half of university he realized that life was not for him, and he decided to push the reset button and start over.
It was at this point in his life that he thought back to his childhood passions and knew that he wanted to pursue some type of electrical or electronics engineering. Matt was lucky enough to know another native of Carbonear, NL, Michael Crawford, who was finishing up the biomed program at College of the North Atlantic in St. John's, NL. After speaking with Michael several times about the program and reflecting on his own interests and past experiences, Matt was sold. Biomedical engineering technology was to be his chosen path.
Finishing his diploma at the College of the North Atlantic in 2004. Matt said at that point, "like many Newfoundlanders at the time", he packed up and left for Alberta (Edmonton) with just enough money in his pocket to buy the plane ticket and a bite to eat on the other end. He ended up living in a 3-bedroom house with 12 other friends from Newfoundland. During this period, Matt was not able to find work in the medical technology field, instead he landed a job pulling and terminating Cat 6 cable for an Edmonton-based communications company. Luckily, this arrangement only lasted for 3 months before he got a call from Iqaluit, Nunavut to fill a casual biomedical technologist position.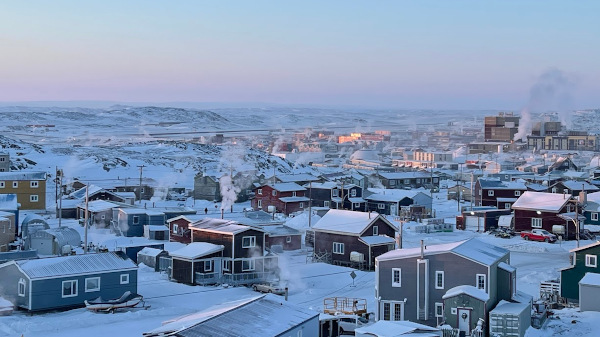 In November 2004, with a healthy mix of fear and excitement, Matt packed up and moved to Iqaluit, starting his first job as a biomedical technologist. He was eager to start and dove headfirst into the role. At the time he landed, he was the only biomedical technologist in the whole Territory, so he had no peers to lean on in his first official biomed role. This forced Matt to use the tools and knowledge he learned from school and his brief work term to figure out how to build and operate the program on his own. Matt recalls that at the time, his single most important guiding principle for his work was "If I'm not 100% confident a medical device I've worked on is safe to use on me or my family, it won't be used on anyone."
Matt was eventually connected with Kevin Taylor, a biomedical engineer and territorial manager of biomedical engineering in the Northwest Territories. Kevin was very influential early in Matt's career and continues to be one of his most trusted mentors.
Reflecting on the first couple of years in his career as a biomedical technologist, Matt stated: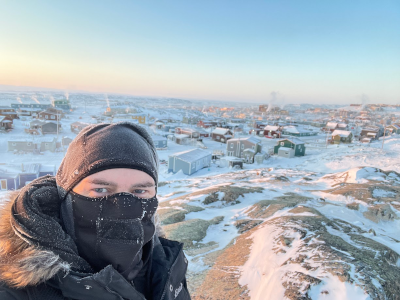 "It was super challenging, and stressful, but by going through that and coming out the other end, I believe the experience made me a much better technologist. It helped me develop a very strong work ethic and made me realize I also had a strong sense of curiosity and adventure that enabled me to go to the arctic to do this. It played a huge role in my development, not just professionally, but very much personally as well."
Matt worked there for 3 years, based out of the Baffin Regional Hospital, which had about 10-15 inpatient beds, ER, diagnostic imaging, laboratory, surgical services (two operating rooms), and several visiting specialty services (neuro, cardio, ophthalmology, ENT, etc.). In addition to the hospital in Iqaluit, Matt was also responsible for eleven (11) other community health centres in the Qikiqtaaluk (Baffin) region of Nunavut. This meant travel to some of Canada's most northern communities for inventory, assessment, repair and preventative maintenance activities.
It was in Iqaluit that Matt met his wife, Jacqueline, who was a new inpatient nurse at the hospital. At the time, Matt was the go-to guy for anything related to medical equipment, so he was often tasked with training some of the clinicians. Matt met Jacqueline through this process, sparks flew and she eventually "…was convinced that I was worth a shot".
After three years in Nunavut, Matt and Jacqueline left to pursue other opportunities. Matt found a traditional biomedical technologist role at Carleton Memorial Hospital in Woodstock, NB, which after only a short time, was moved to the new Upper River Valley Hospital in Waterville, NB. It was here he got the bulk of his service training on equipment such as ventilators, patient monitoring, and dialysis; the latter of which was very special to him because of his childhood experience visiting his grandmother on the dialysis unit in St. John's, NL. His role in New Brunswick enabled him to form strong relationships with his coworkers and really understand what it was like to work in a team-based and well-functioning biomed shop. After having worked in this environment for a few years, Matt felt the work he had done in Nunavut had been validated by his experiences in New Brunswick. He continues to have a great deal of gratitude for the support of his colleagues in New Brunswick and for the learning opportunities he had while there. Matt and Jacqueline spent five years in Woodstock, had their two daughters at the Upper River Valley Hospital where they both worked, and developed a special connection to New Brunswick.
Although the move to New Brunswick had been a very good one for Matt and his family, the allure of returning North again was strong. Hindsight being 20/20, Matt and Jacqueline realized how much they missed their northern lifestyle, their friends, and colleagues they had left behind. They also wanted to give their two daughters the opportunity to experience life in the Arctic. Having lived in Nunavut previously, they were very aware of the challenges and opportunities of working in remote and isolated communities. This time around they would also bring with them some tips and tricks on how to reduce the impact of the increased costs of living in the North, like the extremely high cost of food. So once again, Matt's journey was taking him to the North, the difference was this time he had the comfort of having his family by his side!
Part 2 of this spotlight article will be released in our next newsletter and will discuss Matt and his family's second go at life in the Arctic, as well as highlight his transition into some fascinating roles that have had some significant impacts on the delivery of healthcare in Nunavut. Make sure to tune in for part 2!