The ACCES Executive would like to welcome Marwan Abouelela as a Director at Large to our team.
Marwan joined IWK Health Centre in 2017, bringing with him over twenty (20) years of diversified experience in healthcare including project management, marketing, medical affairs, sales management and leadership roles.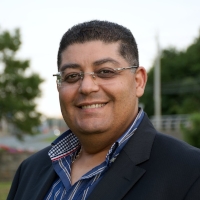 Marwan's journey in healthcare started in 1996 as a clinician in Egypt. Two years later his career path changed as he joined a multi-national pharmaceutical corporation located in the Gulf region. He initially worked for American corporates; Pfizer, Johnson & Johnson then transitioned to a French corporate; Sanofi and finally to a British corporation; GlaxoSmithKline.
Marwan stepped the career ladder, commencing as a professional medical representative, then product specialist, biotech specialist, product manager, franchise manager, line manager, and finally the head of the business unit. In 2016, Marwan ended his career in the pharmaceutical industry. At that time, he was also a board member of the executive leadership team for the Pharma International Company. Through those years, Marwan accumulated exceptional leadership abilities and resourceful skills in corporate communication as well as strategic high-level project management in healthcare.
In 2012, Marwan immigrated to Canada with his wife and two daughters. His wife is currently working as a pharmacist in Shoppers Drug Mart in Halifax and his oldest daughter is studying science in Dalhousie University, meanwhile his youngest daughter attends Halifax West High School. Recently, Marwan has accomplished a master's degree in health informatics from Dalhousie University and then started as a health informatics intern at the IWK Health Centre. Currently he is working as a clinical informatics project manager for IWK Health Centre where he leads NICU/PICU clinical alarm management projects, NICU/PICU redevelopment task force as well as their MedSurg beds replacement program. Also, he is the clinical informatics lead of Chez NICU Home project, new pharmacy website project, as well as the provincial OPOR project.
Marwan is inspired to put his education and experience into large scale clinical informatics and digital transformation projects to support the evolution of medical technologies and related services in the healthcare sector.
Marwan also has a special passion for squash being a certified Canadian squash coach, team captain and a competitive player in the leagues and tournaments around the Maritime. He is also a member of the board of Squash NS as the Director Developmental Programming. He assists Squash NS President in the overall function of the association while chairing the developmental program committee for junior squash players. Both of his daughters represented were in 2019 Winter Canada Games as members of the junior provincial team of NS. His oldest daughter is currently the president of Dalhousie Squash Club.
The ACCES Executive team would like to once again welcome Marwan to our team and looking forward to working alongside with him in the future.